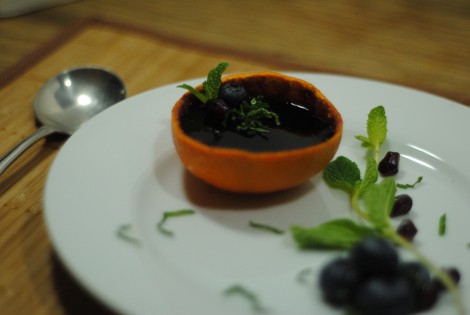 Low-Amine Blueberry Vanilla Jello in Orange Rind Dessert
This simple, low-amine dessert is pretty and tasty. It's low-fat and about as easy to make as any other jello, but is done with quality ingredients and presented beautifully. I could eat dozens of these little low-amine treats, I'm sure of it. For an even lower amine dessert, skip the pretty step and pour the blueberry jello into ramekins. You will avoid contact with the high amine ingredient (satsumas) this way.
4 satsumas
1 package gelatin
1 1/4 C blueberry juice
1/2 tsp ascorbic acid
1 tsp vanilla extract
1 Tbsp sugar
mint leaves, for garnish
handful blueberries, for garnish
scotch tape, if needed
In a small pot, mix blueberry juice with ascorbic acid, vanilla extract, sugar, and gelatin. Heat until sugar and gelatin are dissolved and set aside.
Cut satsumas in half (so that the stem is in the middle of the half-sphere).
With a spoon, gently remove orange wedges and discard. I scrape further to get the pith out. Be careful around the stem, if you dig too much out, you will end up with a hole (thus, the scotch tape).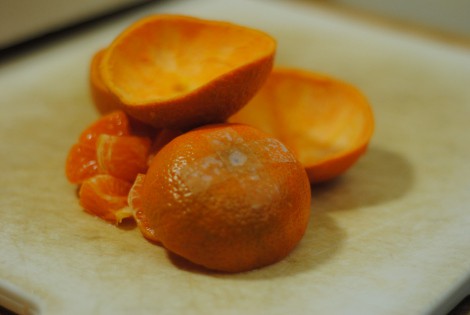 Scooped out satsumas for low-amine blueberry jello dessert. Shown with scotch tape.
If you have a hole, use scotch tape on the outside in an "X" that you remove once the blueberry jello is set.
Set satsuma halves cup-side up into a large casserole pan (in case any leaks or spills). Gently spoon the low-amine blueberry jello into the orange halves.
Chill for at one hour in the fridge, or until set.
Remove scotch tape, if used.
Chiffonade half the mint leaves and sprinkle it over the jello, and garnish plates with the other half. Add blueberries to the presentation.
Serve.
Blueberry vanilla jello dessert with mint chiffonade, served in an orange rind
AMINE BREAKDOWN:
Very Low Amine: gelatin, ascorbic acid, vanilla extract, mint laeves
Low Amine: blueberry juice (very high in histamines, low in tyramines), sugar, blueberries (very high in histamines, low in tyramines)
Very High Amine: satsuma rind
47.606209 -122.332071Published in:
on February 13, 2012 at 7:21 pm  Comments (5)
Tags: blueberry, Cooking, dessert, food, gelatin, jello, mint, recipes


The URI to TrackBack this entry is: /2012/02/13/blueberry-vanilla-jello/trackback/
RSS feed for comments on this post.