Cajun Beef Skewers with Cilantro Sauce
I still have a fair amount of Cajun Seasoning Mix leftover from my Cajun Thanksgiving, so wanted to use it up on a simple appetizer. Beef skewers are always a good way to go, when well seasoned or marinated. I served it with a low-amine Cilantro  Sauce
3 lbs top round beef steaks, about 3/4″ thick
1 C cajun seasoning mix
3 Tbsp safflower oil
12-18 skewers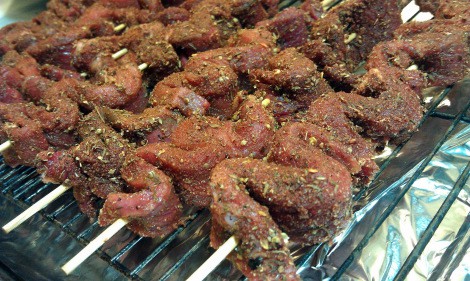 Cajun Beef Skewers
Slice beef into 1/4″ thick, long strips.
Coat well in Cajun seasoning mix.
Use "S" pattern to skewer beef.
Preheat oven to broil.
Allow skewers to sit with rub for at least 15 minutes.
Put beef skewers in oven and broil on each side for just over a minute each (or to desired doneness).
Serve (with or without Cilantro Dressing & Marinade).
AMINE BREAKDOWN
Very Low Amine: Cilantro Sauce
Low Amine: Cajun seasoning mix, beef, safflower oil
Related articles
47.606209 -122.332071Published in:
on December 25, 2011 at 2:17 pm  Comments (3)
Tags: beef, Cajun, Cooking, food, recipes, skewer

The URI to TrackBack this entry is: /2011/12/25/cajun-spiced-beef-skewers/trackback/
RSS feed for comments on this post.