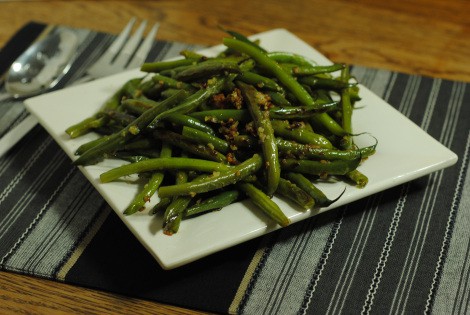 Low-amine Garlic Green Beans (low-amine, gluten-free, soy-free, dairy-free, nut-free, tomato-free, egg-free, fish-free, paleo, low-fat, low-carb, vegetarian, vegan).
This simple, low-amine side dish is delicious, filling, and easy. Low-amine Garlic Green Beans are a lovely accompaniment to almost any meal.
1 lb green beans, stem-end removed
2 Tbsp garlic, pressed
2 Tbsp safflower oil
Salt & Pepper to taste
Low-Amine Green Beans, Washed and Prepped.
Cook green beans in a double-boiler to steam them. When they have reached just under-done, remove from heat.
Heat oil in a large non-stick pan. Add garlic and cook till fragrant.
Add green beans and toss well. Cook until green beans have reached desired doneness. Sprinkle with salt & pepper.
Serve hot.
AMINE BREAKDOWN:
Very Low Amine: green beans (low in histamine, high in tyramine), garlic, salt, pepper
Low Amine: safflower oil
47.606209 -122.332071Published in:
on March 6, 2012 at 7:08 am  Comments (15)
Tags: Cooking, food, Garlic, green beans, recipes, side dish


The URI to TrackBack this entry is: /2012/03/06/garlic-green-beans/trackback/
RSS feed for comments on this post.