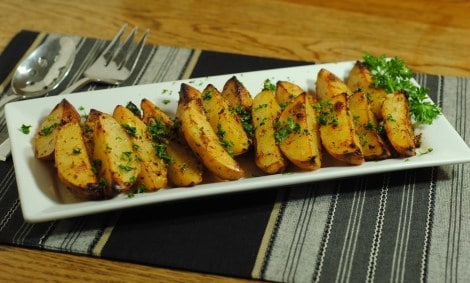 Greek "lemon" roasted potatoes (low-amine, gluten-free, soy-free, dairy-free, egg-free, nut-free, tomato-free, fish-free, low-fat, vegetarian, vegan).
I had a dish similar to this at a Greek Restaurant and set about recreating a low-amine version of it. It had to be done… these Greek roasted potatoes are fabulous. Absolutely, incredibly fabulous. Their tartness is wonderfully balanced by the hearty texture of the potato. This is a tasty accompaniment to many dishes – particularly dishes that are herbed with thyme, dill, basil, or other savory spices.
2 C vegetable stock
1/4 C safflower oil
3/4 C water
2 Tbsp ascorbic acid
1 Tbsp oregano
8 large garlic cloves, minced
8 small (3″ x 2″) Russet potatoes
1/2 tsp salt
1/2 tsp pepper
2 tsp ascorbic acid + 1 Tbsp water, reserved
2 Tbsp fresh minced parsley (garnish)
2 Tbsp crumbled feta (optional, garnish)
Preheat oven to 400 degrees.
Cut potatoes into wedges.
Mix all ingredients (minus parsley and feta) together in a large bowl and rub into potatoes.
In a large Pyrex pan, set all potato wedges cut-side up.
Drizzle sauce over the top, reserving about half.
Bake for 1 hour. At the 30 minute and 45 minute marks, baste with remaining reserved liquid. Cook until all liquid is cooked off.
When cooked through and outsides are nicely roasted, remove from oven and add to serving platter.
Drizzle ascorbic acid and water mixture over the top of the potatoes, to give them a little extra kick, as the tartness tends to cook out somewhat.
Sprinkle with parsley and feta (optional).
Serve hot.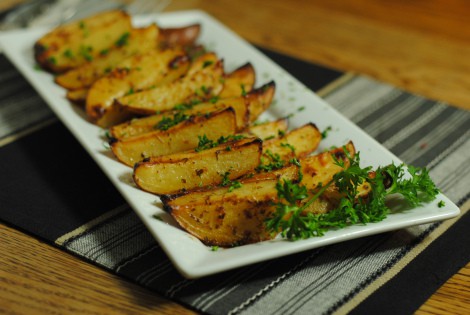 Low-Amine Greek "Lemon" Roasted Potatoes
AMINE BREAKDOWN:
Very Low Amine: water, ascorbic acid, oregano, garlic, salt, pepper, parsley
Low Amine: safflower oil, vegetable stock, Russet potato (for lower Tyramine, peel potatoes), feta
47.606209 -122.332071Published in:
on March 6, 2012 at 7:05 am  Comments (10)
Tags: Cooking, food, greek, lemon, potato, recipes


The URI to TrackBack this entry is: /2012/03/06/greek-lemon-roasted-potatoes/trackback/
RSS feed for comments on this post.