Squash is a wonderful low amine vegetable – it's very hearty, low in fat, and high in fiber. It makes a very good low amine entrée, low amine side dish, or low amine soup. The versatility of squash, particularly Kabocha squash, makes it one of my favorites.
Low amine squash can be done in a number of ways, but this is one is a bit more interesting on the palate than most soft-cook oven methods. This particular squash has a very creamy consistency and cooks quickly, which makes it very easy to work with (additionally, makes a wonderful squash soup and an easy soup thickener).
1/2 Kabocha squash (reserve and clean the seeds and you can toast them for a low amine snack)
5 Tbsp safflower oil
1/2 tsp ascorbic acid
2 1/2 Tbsp fresh minced parsley
1 Tbsp fresh minced rosemary
1 Tbsp thyme
2 Tbsp pureed onion
6 large cloves garlic (Warning: I love garlic. 2-4 is fine for the average bear)
1/2 tsp salt
1/2 tsp fresh cracked black pepper
2 Tbsp water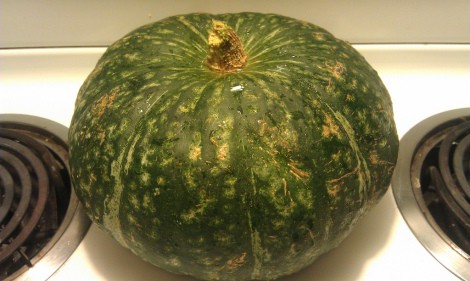 Whole kobucha squash
Wash whole squash well, then cut in half (reserve seeds for low amine toasted squash seeds, if you'd like).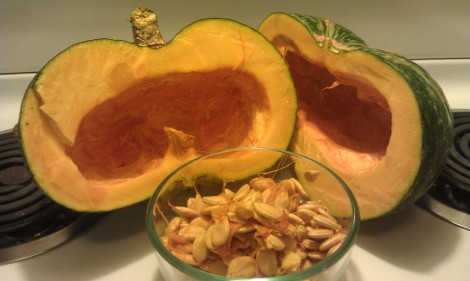 Kobucha squash halved and seeded
Cut up half of the low amine squash into 8-10 "C" shapes (they should resemble bananas) that are no more than 1.5″ thick at their widest point.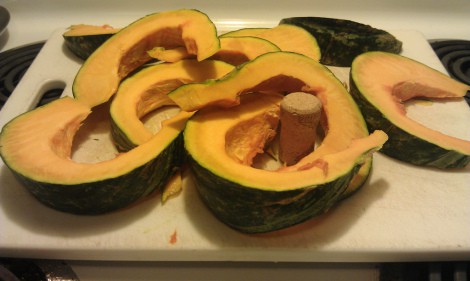 Half of a kobucha squash, cut into sections (cork added for scale).
Puree garlic, water, oil, and onion together.
Mix squash, puree, and all other ingredients together in a gallon Ziplock bag. Rub seasonings into squash very well and let marinate for 30 minutes.
Kobucha squash in marinade
On a grill heated to medium low, grill Kabocha squash (with grill lid closed). Keep the squash on a cooler part of the grill and off the flame – parts that char will get bitter.
Cook for 10 minutes, flip, and cook for another 10.
Serve hot.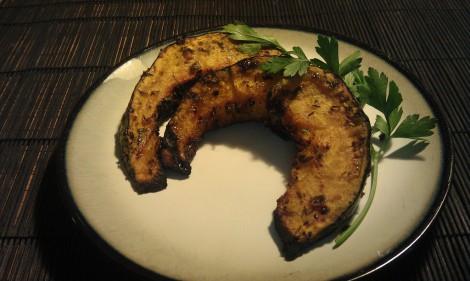 Grilled Low-Amine Kobucha Squash
AMINE BREAKDOWN:
Very Low Amine: Kabocha squash, ascorbic acid, parsley, rosemary, thyme, onion, garlic, salt, black pepper, water
Low Amine: safflower oil 
on September 20, 2011 at 10:03 pm  Comments (4)
Tags: Cooking, food, gluten-free, grilling, kabocha, low amine, recipes, soy-free, squash


The URI to TrackBack this entry is: /2011/09/20/low-amine-squash/trackback/
RSS feed for comments on this post.