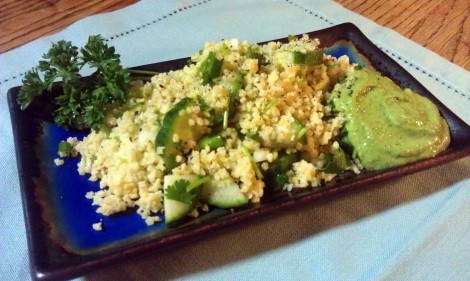 Quinoa salad served with horseradish lime avocado dressing.
This is not exactly made with a particular attention to amines in foods. Avocado is a high amine food (especially as it ripens, so choose fairly unripe avocados), and horseradish is said to be high amine. However, with horseradish, I'm not sure horseradish itself is high in amines, or whether it is usually found creamed, in jars, processed, and having sat on a shelf for weeks, months, or years. To be safer, I am starting with fresh horseradish root.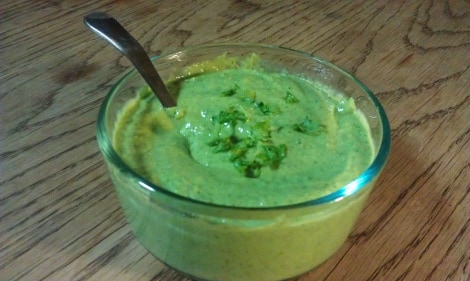 Horseradish, lime, avocado dressing (medium-amine, gluten-free, soy-free, dairy-free, paleo)
Juice of 1 limes
1/2 avocado
2 Tbsp fresh grated horseradish, packed
2 Tbsp safflower oil
1/4 tsp black pepper
1/2 tsp salt
1/4 tsp cayenne (or fresh chopped chilies)
1/2 C cilantro, chopped
1/4 C cashews, soaked
1/2 C rice milk (or water instead, for Paleo diet)
Soak cashew in water for 2 hours, then drain.
In a food processor, puree cashews first, then add all other ingredients except rice milk. Puree until very smooth.
Add rice milk and continue blending, until mixture is extremely smooth and creamy.
AMINE BREAKDOWN:
Very Low Amine: lime, black pepper, salt, cilantro, rice milk
Low Amine: safflower oil, cashews
High Amine: horseradish
Very High Amine: cayenne (or chilies), avocado
Related articles
BBQ Sauce (low-amine, gluten-free, soy-free, tomato-free) (aminerecipes.com)
Baked Potato Chips (gluten-free, low-amine, soy-free, dairy-free) (aminerecipes.com)
Breakfast: Poached Eggs over Sauteed Veggies (low-amine, vegetarian, gluten-free, soy-free, low-carb) (aminerecipes.com)
Quinoa Salad (aminerecipes.com)
Horseradish Cranberry Relish (aminerecipes.com)
Low Amine Sinigang (Filipino Tamarind Soup) (aminerecipes.com)
47.606209 -122.332071Published in:
on January 26, 2012 at 8:41 am  Comments (1)
Tags: Avocado, Cashew, cilantro, Cooking, dressing, food, Gluten-free diet, Horseradish, recipes, sauces


The URI to TrackBack this entry is: /2012/01/26/horseradish-lime-avocado-dressing/trackback/
RSS feed for comments on this post.