Low-Amine Spinach Artichoke Dip Substitute
I really miss spinach artichoke gruyere dip. But it's all stuff I can't have because artichoke is high in amines, spinach is high amine, and gruyere cheese? Yep, also high amine. I did some experimentation, and found a low amine spinach artichoke dip substitute that put a happy dance in my feet. It's creamy, gooey, and the addition of bok choy gives it enough body and texture to give it a mouth-feel that is similar to spinach artichoke dip.
5 C sunchokes, washed and well chopped (peel if you do not have a blender or food processor)
5 large baby bok choy
1 lb (2 C shredded) Mozzarella cheese (you can also use half Feta cheese, if desired)
2 1/2 tsp black truffle oil
1 C cream cheese or neufchatel (one block)
1 Tbsp basil
1/2 tsp black pepper
2 cloves garlic, pressed
1/2 tsp salt
1/8 tsp cayenne
2 Tbsp oil (for cooking with)
Preheat the oven to 450 degrees Fahrenheit.
Wash and chop sunchokes (peel if you have no blender or food processor). Boil for 15-20 minutes, or until thoroughly soft.
Wash bok choy and separate leaves (discard stems). Cut green parts off and set aside. Toss half of the white parts of bok choy (reserve the other half for a different recipe – they won't be used here) in a dash of oil and spread into an aluminum foil lined Pyrex pan. Bake for 25 minutes, tossing once halfway through.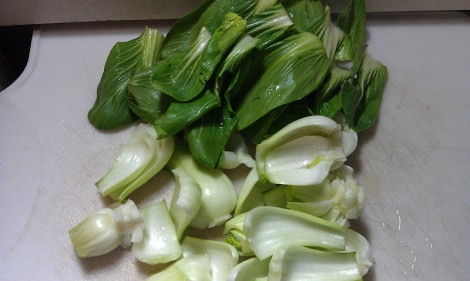 Low-Amine Fake Spinach Artichoke Dip: bok choy, greens and whites
Chop green parts of bok choy leaves into slivers, and gently stir-fry them on a medium stove with a small amount of oil.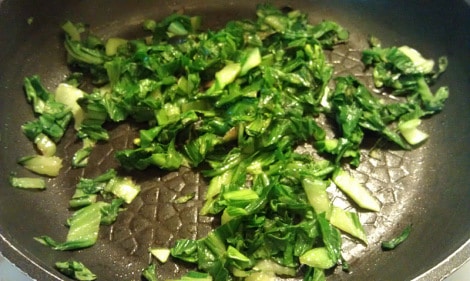 Low-Amine Spinach Artichoke Dip Substitute: bok choy greens, cooked
Shred Mozzarella, and add (reserve 1/4 C Mozzarella to sprinkle over the top) to a large bowl with truffle oil, cream cheese, basil, black pepper, garlic, salt, cayenne, and bok choy greens.
Once cooked, puree the sunchokes in a food processor (or mash, if peeled), and add to the cheese mix.
When the bok choy is cooked, reduce temperature to 425 degrees. Chop bok choy whites into very small bits. Mix in with cheese blend and mix well.
Pour mix into a pie pan and sprinkle remaining Mozzarella over the top.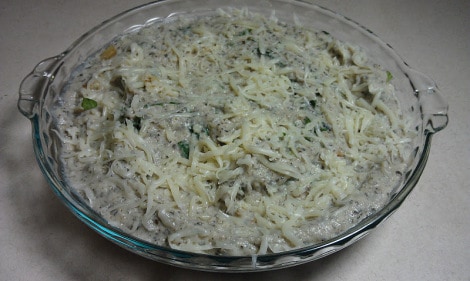 Low-Amine Spinach Artichoke Dip Substitute: Just before baking
Bake until golden and bubbly, about 20 minutes. Serve warm with crostini, crackers, or pita.
AMINE BREAKDOWN:
Very Low Amine: sunchokes, bok choy, basil,black pepper, garlic, salt
Low Amine: Mozzarella, Feta, safflower oil, cream cheese
Very High Amine: truffle oil, cayenne
47.606209 -122.332071Published in:
on November 16, 2011 at 9:33 pm  Comments (3)
Tags: artichoke, bok choy, Cooking, jerusalem artichoke, Mozzarella, recipes, Spinach, spinach artichoke dip, sunchoke


The URI to TrackBack this entry is: /2011/11/16/artichoke-spinach-dip-substitute/trackback/
RSS feed for comments on this post.