Low amine bean and kale soup
I was feeling under the weather, and needed some hearty soup to help clear the evil out of my body, so decided to throw together a low amine soup. I was craving tomato soup like crazy, but since I haven't come up with a low amine tomato soup yet, this low amine bean and kale soup is the next best thing.
7 C homemade vegetable broth
1 C water
1 C chopped flat leaf parsley, stems included
1 bunch kale, ribbed and chopped into bite sized pieces (discard kale ribs, or save for making veggie stock)
1 C mixed dried beans
1 medium sweet potato
2 small Russet potatoes
Juice of 1/2 lime
4 Tbsp minced ginger
2 Tbsp minced garlic (about 8 cloves)
5 Tbsp minced shallot (about 1 1/2 shallots)
4 Tbsp grapeseed oil
1/2 C fresh, organic apple juice (optional)
2 Tbsp ground cumin
1 1/2 tsp turmeric
1 tsp rosemary
1 large bay leaf
1 1/2 tsp salt
1 tsp fresh cracked black pepper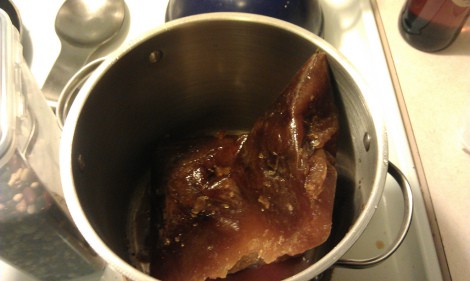 Frozen broth and mixed beans
In a medium sized stock pot, bring pre-made vegetable (or other stock) broth to a boil, add beans, and reduce to low simmer.
Add parsley, cumin, turmeric, bay leaf, rosemary, salt, and pepper. Cover.
Heat a separate sauce pan to medium high. Add oil and minced garlic, ginger, and shallot. Stir often and cook for about 3 minutes, or until fragrant and garlic has started to brown.
Cooking shallot, ginger, and garlic
Add cooked spices to stock pot.
Add kale, lime, and water. Cover and cook for 1 hour on low (just barely simmering).
Chop sweet potato and Russet potatoes into small, bite sized pieces. After the hour is up, add it to the pot.
Add apple juice.
Cook for additional 1/2 hour to hour. Low amine bean and kale soup is done when the largest beans in the soup are cooked through.
AMINE BREAKDOWN:Very Low Amine: broth (assuming homemade and from acceptable low amine vegetable scraps), water, parsley, beans, sweet potato, potato, lime, ginger, garlic, shallot, grapeseed oil, apple juice, cumin, rosemary, bay leaf, salt, pepperLow Amine: turmericHigh Amine: kale47.606209 -122.332071Published in:
on September 14, 2011 at 1:48 am  Leave a Comment
Tags: amine, bean, bean soup, Kale, kale soup, low amine soup, potato, soup

The URI to TrackBack this entry is: /2011/09/14/low-amine-bean-and-kale-soup/trackback/
RSS feed for comments on this post.