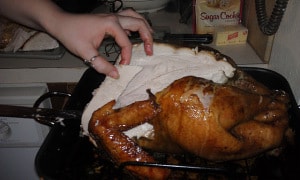 Low Amine Cajun Turkey for Thanksgiving
Along with my low-amine diet, I'm a bit of a non-traditionalist. I'd rather have pho or a salad for breakfast than pancakes, bacon, and eggs. I don't think everything tastes better with butter. I'm perfectly happy eating a pile of dry nori for a snack instead of a granola bar or bag of chips. So in running with my out-of-the-ordinary menus and food choices, I thought I'd take a new spin on Thanksgiving, too. How about we try a Cajun turkey for Thanksgiving?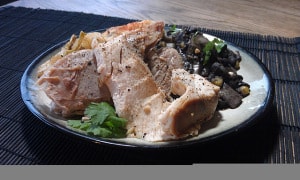 Low Amine Cajun Turkey
TURKEY RUB
4 Tbsp salt
4 Tbsp onion powder
2 Tbsp garlic powder
1/2 Tbsp cayenne pepper
2 Tbsp paprika
1 Tbsp ground oregano
1/2 stick butter
Blend spices in with room temperature butter.
Rub spice mix inside cavity, on outside of skin, and under the skin of the turkey.
Allow spices to rest on the turkey for two hours.
TURKEY
1 turkey
1/2 onion, chopped
2 ribs celery, cut into 1″ segments (or 1/4 C chopped Celeriac (celery root))
1 Tbsp safflower oil
Pinch salt & pepper
4 C turkey, chicken, vegetable, or beef stock
Preheat oven to 400 degrees Fahrenheit.
Wash turkey and pat dry.
If you haven't already done this step, use Cajun turkey seasoning rub to rub  inside cavity, on outside of skin, and under the skin of the turkey. Let rest for two hours.
Rub onion and celery with oil, salt and pepper.
Loosely stuff into turkey cavity (it should only be about 1/2 full). Close cavity by stopping up with a piece of aluminum foil.
Twine opening and legs together, and one around the body to tie legs and wings in to the body.
Pour stock of choice into the bottom of the roasting pan.
Cook Cajun turkey, breast-side down, at 400 degrees for 30 minutes.
Baste every half hour or so, including squirting Cajun turkey basting liquid into turkey cavity.
Reduce heat to 350 degrees. Cook for 2 hours.
Reduce heat to 225 degrees.
Flip turkey to breast side up. Cook for 1 to 1 1/2 hours.
Turn heat back up to 350 degrees and cook for another half hour.
Turkey is done when juices run clear, or when internal temperatures reach 170 degrees in the thigh, and 160 degrees in the breast.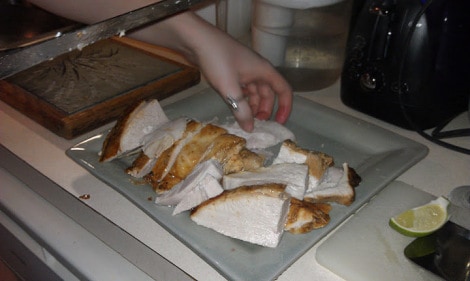 Low Amine Cajun Turkey, Carved.
Related articles
47.606209 -122.332071Published in:
on November 11, 2011 at 11:05 am  Comments (8)
Tags: Cook, Cooking, food, Poultry, recipes, Thanksgiving, Turkey

The URI to TrackBack this entry is: /2011/11/11/cajun-roasted-turkey/trackback/
RSS feed for comments on this post.