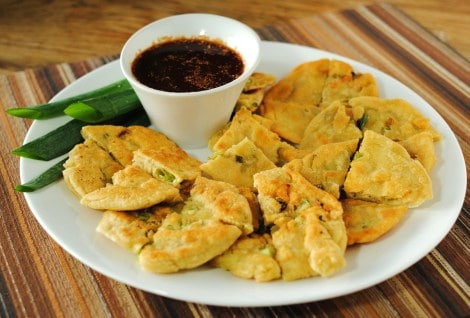 Low-Amine Chinese Scallion Pancakes with "Soy" Dipping Sauce (low-amine, gluten-free, soy-free, dairy-free, nut-free, tomato-free, vegetarian, vegan).
These Chinese scallion pancakes were tasty. Because I changed the all-purpose flour to a gluten-free all-purpose flour (Bob's Mill brand), the texture was different than when I had made them previously. However, they were still very tasty and I'd eat them again in a heartbeat. The low-amine sauce added a nice touch to the Chinese scallion pancakes that I felt was necessary, given the tougher nature of the gluten-free flour.
1 1/2 – 1 3/4 C gluten-free all-purpose flour
3/4 C warm water
1/4 tsp salt
1 Tbsp sesame oil substitute
1/2 C finely chopped green onions
2 Tbsp safflower oil mixed with 2 Tbsp sesame oil substitute (for frying), divided
Flour for flouring counter top
Low-Amine Chinese Scallion Pancake Dipping Sauce:
2 Tbsp soy sauce substitute
1/2 tsp ascorbic acid
1 Tbsp sesame oil substitute
2 Tbsp water
1 Tbsp grated ginger
1 tsp agave nectar or sugar
Dissolve salt into warm water.
Mix flour into water. Mix until doughy – if it's too thick, add a tiny bit of water at a time until the proper texture. If too thin, add more flour.
Flour the counter top.
Knead and break up into 8 evenly-sized balls of dough.
Press/roll each ball flat, and brush with sesame oil substitute. Sprinkle with green onions and roll dough into a tube.
Press tube flat, spiral-side down, and roll/press into a pancake. Mine were about 3″ across. I would have liked them to be a bit bigger, but the gluten-free dough broke apart too easily when more thin. Do what works for you.
Dust with flour to ensure the pancake will rest easily and won't stick while you roll out the rest of the low-amine Chinese scallion pancakes.
Pour half the oil into a large, non-stick frying pan. On medium heat, fry four at a time until golden brown on each side. I found that I liked mine more cooked rather than less, since gluten-free flour has a  tendency to have a grainier texture when not cooked through.
Each side of the pancakes cooked about 3-5 minutes. Set aside on paper towels to drain.
Pour remaining oil in pan and repeat.
Cut each low-amine Chinese scallion pancake into quarters.
Low-Amine Chinese Scallion Pancake Dipping Sauce:
AMINE BREAKDOWN:
Very Low Amine: gluten-free flour, water, salt, green onion, ascorbic acid, ginger
Low Amine: sesame oil substitute, safflower oil, soy sauce substitute, agave nectar / sugar
47.606209 -122.332071Published in:
on April 5, 2012 at 2:35 am  Comments (25)
Tags: Chinese, Cooking, dairy-free, food, gluten-free, green onion, recipes, scallion


The URI to TrackBack this entry is: /2012/04/05/chinese-scallion-pancakes/trackback/
RSS feed for comments on this post.