Low-Amine Hummus (gluten-free, soy-free, dairy-free, egg-free, fish-free, tomato-free, paleo, low-fat, low-carb, vegetarian, vegan).
Low amine hummus is delicious, and ridiculously easy.
Have you been buying tiny containers of hummus at the store for $4 – $6? You've been overpaying. By a LOT. You can fill that same container of store-bought hummus with homemade humus for about 40 cents… If even that.
In addition to that, store-bought hummus is full of amines. Often, they use high amine ingredients such as lemon juice, olive oil, roasted peppers, MSG, and worse. Making a low amine hummus is both easy and much better for your amine-free lifestyle.
Serves: 10+ hungry people
Time to Cook / Prep: 15 minutes (minus the 5 hour simmer)
1 1/2 C dried chickpeas / garbanzo beans
1/2 C tahini
8 cloves garlic
1 tsp ascorbic acid
1/4 C dried or finely minced parsley
1 C water
1/4 C safflower oil
1/2 – 2 tsp salt, to your taste
Start this process early, it takes a while.
Sift through chickpeas to make sure there are no stones or grit that made it in the batch.
Fill a large pot with water and add chickpeas. Turn to high, bring to a boil, then reduce to warm/low, or a low simmer.
Let them cook for about 4 hours, or until they are completely tender. If there is any grittiness or hard spots left in the chickpeas, the hummus will end up tasting chalky/gritty. We left the roommate home to make sure we didn't burn down the house and did errands while the chickpeas did their thing.
Drain chickpeas.
Add garlic, tahini and chickpeas to a food processor. The chickpeas should come up to the top of the food processor. Add water, oil, salt, and ascorbic acid (or lemon juice).
Start processing. Add water, little bits at a time, as necessary to keep hummus moving in the food processor.
Hummus should achieve a creamy, smooth consistency. Taste, and adjust salt and citrus as necessary. Add parsley and blend until mixed in.
Serve hummus with flatbread or some other "scooping" food, and garnishwith parsley and a drizzle of oil over the top.
You can alter this recipe by adding more garlic, taking garlic out, adding carmelized onion, roasted peppers, fresh jalapeno, roasting garlic, or anything else that sounds tasty to you.
Store in fridge or give to friends.
Do not freeze hummus. Defrosted hummus is just about the weirdest thing ever. Trust me, I've tried it. Twice.
Also… Please don't use canned garbanzo beans. The flavor and texture is all wrong. Plus, canned beans are higher in amines.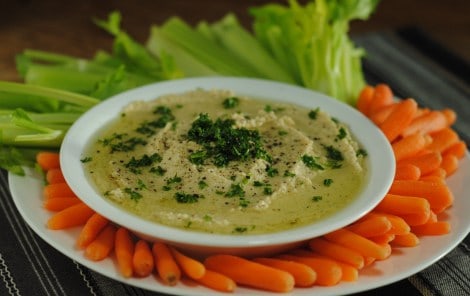 Low-Amine Hummus with Carrots and Celery.
AMINE BREAKDOWN:
Very Low Amine: garbanzo beans / chickpeas, garlic, ascorbic acid, parsley, water, salt
Low Amine: safflower oil
Very High: tahini (if you want to reduce the amine content further, you can reduce the amount of tahini in the hummus, but it does affect flavor. I have not found a good sesame substitute yet. If you know of one, please let me know!)
47.606209 -122.332071Published in:
on August 11, 2011 at 4:50 pm  Comments (6)
Tags: appetizer, appetizer dip, chickpea, Cooking, food, garbanzo bean, high protein snack, hummus, hummus dip, recipes


The URI to TrackBack this entry is: /2011/08/11/low-amine-hummus/trackback/
RSS feed for comments on this post.