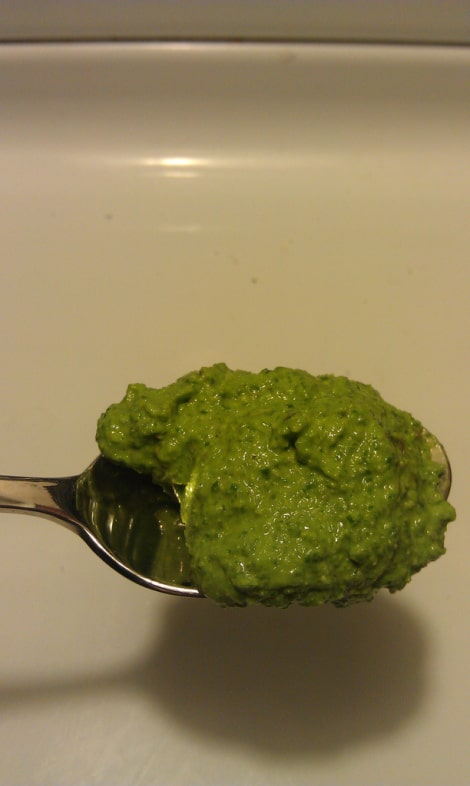 Low amine pesto. It's still delicious, even with no Parmesan, no pine nuts, and no nutritional yeast.
Pesto is a hard thing to love when you are on a restricted diet due to amine allergies. Parmesan? High in amines. Pine nuts? High in amines. What about a Parmesan substitute, like nutritional yeast? Nope. High in amines. So what's a person to do? Fake it! This low amine pesto recipe will satisfy that pesto craving without feeling like you're missing the main act. Enjoy low amine pesto as a dip, a sauce, a spread, on pasta (or even a pasta substitute, like spaghetti squash), or any other way you'd use regular pesto. Enjoy!
Recipe makes 1C low amine pesto.
2 C fresh basil leaves, fairly packed
1/4 C feta, packed
1/4 C raw cashews
1 large cloves garlic
1/2 tsp ascorbic acid
1/4 C safflower oil
1 Tbsp minced green Thai chilies (seeds included)
Pinch of salt
Large pinch of pepper
In a large food processor, grind cashews till they are a fine meal and the cashew butter has started to collect in the corners of the food processor.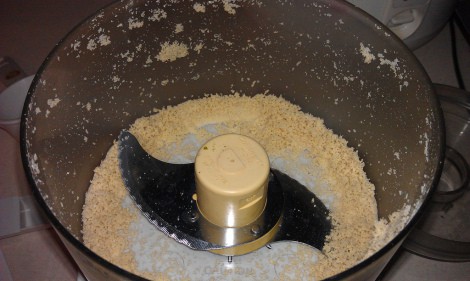 Ground cashews for low amine pesto
Using a butter knife or stiff spatula, scrape cashew nut butter out of the corners of the food processor.
Add all ingredients and puree until very smooth.
AMINE BREAKDOWN:
Low Amine: basil, feta, garlic, ascorbic acid, safflower oil, salt, pepper
Moderate Amine: cashew
Very High Amine: green Thai chilies
Related articles
47.606209 -122.332071Published in:
on September 8, 2011 at 8:34 pm  Comments (6)


The URI to TrackBack this entry is: /2011/09/08/low-amine-pesto/trackback/
RSS feed for comments on this post.