Low-Amine Teriyaki Tofu Cabbage Wraps (low-amine, gluten-free, dairy-free, nut-free, tomato-free, vegetarian, vegan), plated with sauce and ginger.
These cabbage wraps are both light and filling. The flavors are refreshing and hearty at the same time. For a more pliable cabbage wrap, you can blanch or steam the low-amine cabbage, but I prefer mine raw. I was starving, but after eating three low-amine cabbage wraps, was completely stuffed.
1 head cabbage (first 6-10 outside leaves only)
2 blocks firm, organic tofu
1/4 C shallot oil
Heat 1 C safflower oil and add 1 shallot, thinly sliced.
Cook over medium low until shallot is crisp and golden brown.
Reserve shallot as topper for dishes.
Oil will keep in the fridge for a couple months.
1 C cilantro, chopped
1/2 Walla Walla / Vidalia sweet onion, sliced into half-rings
2″ ginger, grated
4 green onions, sliced thinly
1 Tbsp garlic powder
1/2 tsp salt
1 Tbsp cornstarch
Cut tofu into 8 pieces each. Lay them flat in a Pyrex dish and pour soy sauce substitute and shallot oil over the top.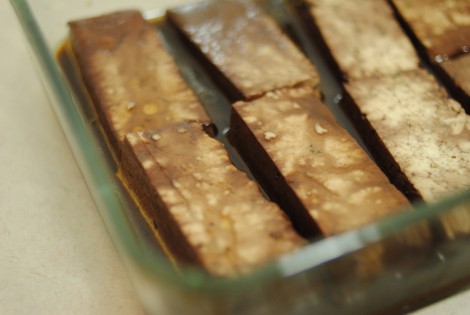 Tofu, marinated in low-amine, gluten-free soy sauce substitute and shallot oil.
Marinate for at least two hours. Halfway through, flip tofu pieces over in the marinade.
Peel outside layers of cabbage off carefully to use as cabbage wraps.
Prepare cilantro, onion, ginger, and green onion.
Preheat oven to 350 degrees.
Line a cookie sheet with foil and oil down. Place tofu pieces on foil, and bake for 40 minutes.
Pour marinade into a pan, and add garlic powder, salt, and cornstarch. Mix well and turn heat to medium low.
Stir constantly until thickened, then remove from heat.
When tofu is starting to crisp around the edges, remove from oven and cut into small pieces.
Serve all ingredients pre-wrapped in cabbage and held together with toothpicks, or serve as "build your own" at the table.
Low-Amine Teriyaki Tofu Cabbage Wraps
AMINE BREAKDOWN:
Very Low Amine: cabbage, cilantro, sweet onion, ginger, green onions, garlic powder, salt, cornstarch 
Low Amine: soy sauce substitute, shallot oil
Moderate Amine: firm tofu
Related articles
47.606209 -122.332071Published in:
on March 23, 2012 at 6:48 am  Comments (20)
Tags: cabbage, Cooking, food, gluten-free, recipes, Soy sauce, teriyaki, tofu, vegan, vegetarian


The URI to TrackBack this entry is: /2012/03/23/teriyaki-tofu-cabbage-wraps/trackback/
RSS feed for comments on this post.