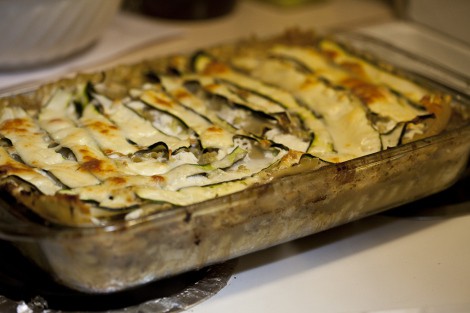 Low Amine Tomato-Free Lasagna
Eating a low amine diet is hard when faced like comfort food losses like lasagna. It's nice to be able to have such foods without breaching your amine threshold. This classic comfort food is completely possible with my recipe. Several people (on a regular, tomato-inclusive, high-amine diet) tried my low-amine, no-tomato zucchini lasagna and absolutely loved it. I also did a gluten-free option for my roommate by making one without lasagna noodles.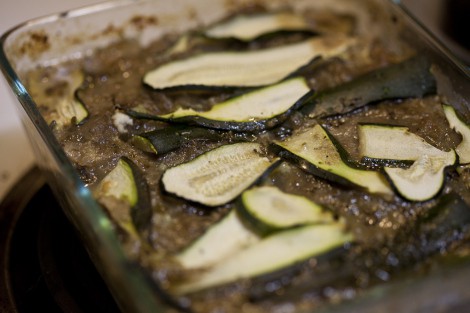 Gluten Free Low Amine (No Tomato) Lasagna
The gluten-free lasagna also turned out very well, and nothing felt like it was missing (in this case, the zucchini noodles acted in place of lasagna noodles). I didn't mean to skip cheese on top… I just didn't have enough. Yours will be prettier.
1 lb lean ground beef (90% lean)
1/2 large chopped white onion
4 medium zucchini
1/2 package lasagna noodles (omit for gluten-free)
2 C part skim ricotta
1/2 batch (pre-made) of tomato-free low amine marinara sauce
16 oz (1 lb) fresh mozarella, shredded
1/2 C packed fresh basil
1/3 C minced garlic (I use a lot of garlic in my cooking. You've been warned.)
2 Tbsp oregano
1 Tbsp Italian seasoning
1/2 tsp salt
1/2 pepper
Preheat oven to 375 degrees.
Boil lasagna noodles. When al dente, drain and run under cool water to prevent sticking.
In a large skillet, cook beef and onion over medium heat until meat is no longer pink. Drain. Add oregano and Italian seasoning.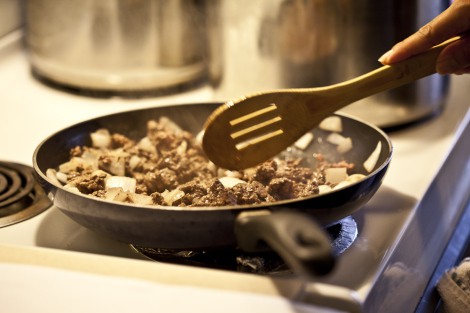 Cooking Beef, Onion, and Seasonings
Mix ricotta with chopped basil, garlic, salt, and pepper.
Cut zucchini into long slices. A mandoline (please take care not to cut yourself) is very helpful for this, if you have one.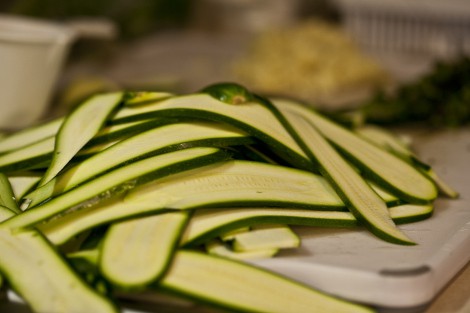 Zucchini sliced thin with a mandoline
In a large casserole Pyrex dish, start layering your ingredients. The order I choose is lasagna noodles, ricotta, sauce, zucchini, mozzarella, repeat. Generally, the middle layer is the layer in which I use the meat. My low amine lasagna was three layers deep.
No-Tomato Lasagna getting built, layer by layer.
Bake for 40 minutes. Let stand 10 minutes before serving.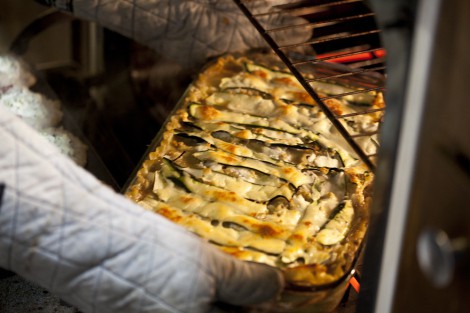 Low-Amine No-Tomato Zucchini Lasagna, Hot out of the Oven.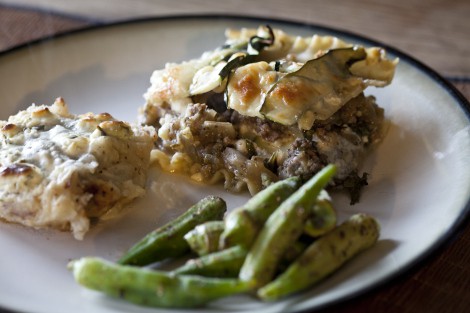 No Tomato Lasagna served with Red Wine Okra and Muffin Tin Herb Cream Cheese Mashed Potatoes. The flavors all complimented each other very well. Win.
AMINE BREAKDOWN:Very Low Amine: onion, zucchini, lasagna noodles, basil, garlic, oregano, Italian seasoning, salt, pepperLow Amine: ricotta, low-amine no-tomato marinara, mozzarellaPhotos provided courtesy of Molly Magee Photography of Seattle, WAhttp://mmageephotography.com/
Related articles
47.606209 -122.332071Published in:
on September 23, 2011 at 2:12 pm  Comments (8)
Tags: Cooking, food, gluten free lasagna, lasagna, low amine lasagna, recipes, zucchini lasagna


The URI to TrackBack this entry is: /2011/09/23/no-tomato-lasagna/trackback/
RSS feed for comments on this post.