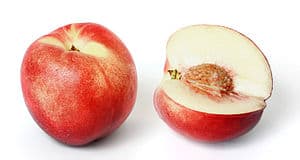 Nectarine
Moderately low amine salad dressing for those who love nectarines and tart flavors. Also usable as a sauce for chicken or fish.
1 nectarine, pit removed
2 Tbsp balsamic vinegar
2 Tbsp grape juice
1/8 C grapeseed oil
1/2 tsp fresh marjoram
1/2″ nub of fresh ginger
Puree nectarine and roughly chopped ginger until very smooth. Add balsamic vinegar if it needs more liquid to puree thoroughly.
Add all remaining ingredients and ensure the nectarine balsamic dressing is thoroughly pureed.
Keeps in fridge for about a week. Shake well before using.
If dressing is too thick, add a little water or apple juice to thin and shake before using.
AMINE BREAKDOWN:
Very Low Amine: nectarine, grapeseed oil, marjoram, ginger
High Amine: grape juice
Very High Amine: balsamic vinegar
47.606209 -122.332071Published in:
on August 10, 2011 at 6:23 pm  Comments (1)
Tags: Balsamic vinegar, Dressings, ginger salad dressing, low amine balsamic, nectarine, nectarine balsamic, nectarine balsamic dressing, nectarine ginger, nectarine salad dressing, salad dressing


The URI to TrackBack this entry is: /2011/08/10/nectarine-balsamic-dressing/trackback/
RSS feed for comments on this post.