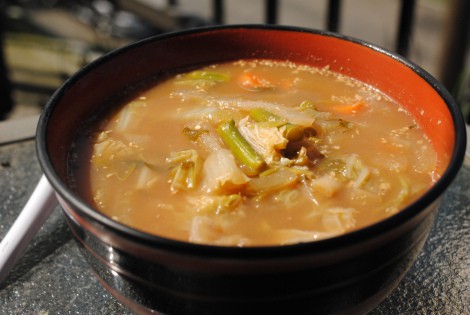 Low-Amine Get-Well Soup (low-amine, gluten-free, soy-free, dairy-free, nut-free, tomato-free, nightshade-free, paleo, low-fat, low-carb)
I'm sick. Lord I hate being sick. So I've made myself a quick and dirty get-well soup out of the low-amine vegetables in the house. Fast, easy, and one bowl in, I am already starting to feel better. Healthy soups are good medicine!
2 onions, sliced into "C rings"
2 carrots, chopped
3 green onions, chopped
1/2 bundle asparagus, ends trimmed, chopped
1/2 bundle cilantro (about 1 C), chopped
1/4 daikon radish, chopped (about 1 C)
1 small head napa cabbage, chopped fairly thin
12 medium to large cloves garlic
1/4 C ginger
1/2C soy sauce substitute
4 C beef broth
2 C vegetable broth
3 Tbsp safflower oil
Heat oil in stock pot on medium. Add cut onions, green onions, and carrot. Cook until onions are starting to go translucent.
Add chopped cilantro, asparagus, daikon, napa cabbage, and soy sauce substitute. Stir and cover with lid. Cook for about 5 minutes.
In a small food processor, puree garlic and ginger. Add water as necessary to keep it moving.
Add puree, beef broth, and vegetable broth to the pot. Stir.
Bring to a boil and then reduce to a simmer. Cover.
Cook low-amine soup for 15 minutes, or until cabbage has reached desired doneness.
Serve hot.
AMINE BREAKDOWN:
Very Low Amine: onions, carrot, green onion, asparagus, cilantro, daikon radish, napa cabbage, garlic, ginger
Low Amine: soy sauce substitute, beef broth, vegetable broth, safflower oil
47.606209 -122.332071Published in:
on April 12, 2012 at 12:28 pm  Comments (33)
Tags: Cooking, food, Gluten-free diet, recipes, soup, soups


The URI to TrackBack this entry is: /2012/04/12/get-well-soup/trackback/
RSS feed for comments on this post.