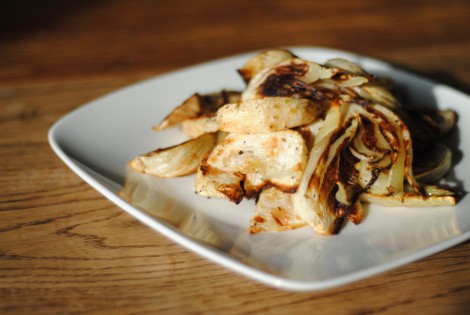 Low-amine roasted fennel and celery root.
This easy side dish is a nice, flavorful addition to a meal, but not overpowering (as celery and  licorice can be at times). It is a very easy low-amine recipe that looks like you put a lot of thought into it. I love that. <31 large bulb fennel1 medium celery root (about the same size as the fennel)3 Tbsp safflower oilsaltpepper
Preheat oven to 400 degrees.
Use 1 Tbsp oil to grease a cookie sheet.
Cut off stems from fennel, and peel celery root.
Cut fennel and celery root in half lengthwise.
Cut into wedges like apple slices and toss them in a bowl with 2 Tbsp oil, salt, and pepper until well-coated. Lay out pieces on the cookies sheet.
Low-amine fennel and celery root.
Roast at for 10 minutes, then flip.
Roast for 6 minutes on the other side.
Serve.
AMINE BREAKDOWN:Very Low Amine: fennel, celery root, salt, black pepperLow Amine: safflower oil
47.606209 -122.332071Published in:
on February 19, 2012 at 9:38 pm  Comments (9)
Tags: Celeriac, Cook, Cooking, fennel, food, recipes, vegan, vegetarian


The URI to TrackBack this entry is: /2012/02/19/roasted-fennel-celery-root/trackback/
RSS feed for comments on this post.