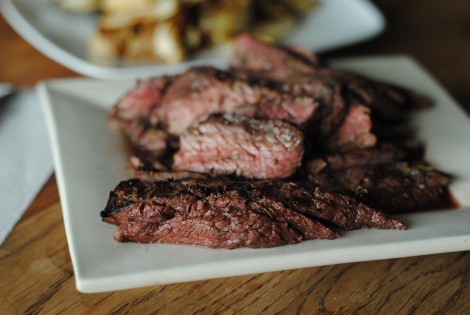 Rosemary Balsamic Flank Steak (low-amine, gluten-free, soy-free, dairy-free, vinegar-free, low-carb, paleo)
Flank steak is one of my most favorite cuts of beef. Though it's not always the most tender, it tends to be very flavorful, and does very well marinated. I often do mine in a soy-ginger marinade, but every now and again I get a hankering for a marinade that's a little more "classic."
To allow the flavor of the rosemary to really soak in, I marinate overnight, though you can marinate for as little as 2 hours, if you poke the heck out of both sides of the flank steak with double-fisted forks (be prepared to look like you just escaped the asylum if you go this route). This low-amine rosemary balsamic flank steak recipe is actually vinegar-free. You use a low-amine balsamic vinegar substitute instead.
2 lbs flank steak and a gallon sized ziplock bag
3 Tbsp fresh rosemary, washed and chopped
10 cloves garlic, pressed
1/4 C shallot, minced
1/4 C safflower oil oil
1/4 C balsamic vinegar
1/2 C blueberry juice, reduced over high heat to 1/4 C, then adding:
1 tsp ascorbic acid
1/2 tsp molasses
2 tsp vodka
1/2 tsp lime juice
1 tsp sea salt
1/2 tsp ascorbic acid
1 tsp fresh ground black pepper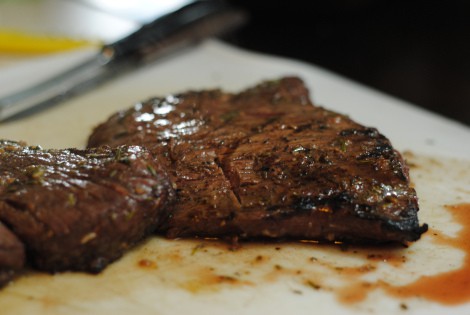 Low-amine rosemary balsamic flank steak, just off the grill.
Add all marinade ingredients to a ziplock bag and mix well.
Lay flank steak as flat as possible in the ziplock bag, and spread the marinade over it on both sides, rubbing it in.
Lay flat in the fridge and marinate for 24 hours. Flip over halfway through, if possible.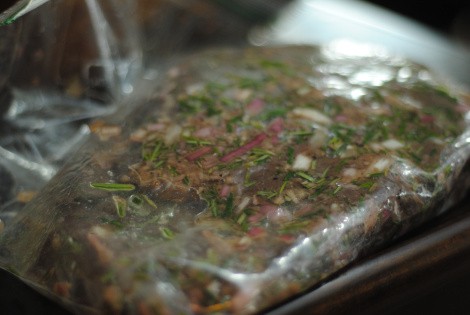 Rosemary balsamic flank steak marinating in a Ziplock bag.
You can cook it on the grill or under the broiler. Here, I used the grill.
Grill: Depending on the heat of your grill, about 3 minutes each side. You want it on a higher heat, but no flames should lick the beef, as the rosemary will char and add a bitterness.
For Broiler: I cook flank steak under the top rack of the broiler (I give it extra height in the oven by placing the flank steak on a cookie-cooling rack on a cookie pan… On another cookie pan that's flipped upside down. It doubles the height.) for 5 minutes, then flip over and cook the other side for 3.
Depending on the thickness of the flank steak and proximity to the heat source, you may need to cook it a little longer. I pull it out and cut into it at this point. If it looks rare, it's done.
Pull it out and let it rest on a cutting board, covered in foil, for 5 minutes – it will continue cooking (The few times I've made the mistake of letting it continue cooking because rare was too rare, it ended up being medium-well done).
Slice against the grain on a diagonal. Reserve juices and pour them over the top when you serve your low-amine Rosemary Balsamic Flank Steak.
AMINE BREAKDOWN:
Very Low Amine: rosemary, garlic, shallot, blueberry juice (high in histamines, low in tyramines), ascorbic acid, sea salt, black pepper
Low Amine: beef, safflower oil, molasses, vodka
Very High Amine: lime juice
47.606209 -122.332071Published in:
on February 19, 2012 at 9:22 pm  Comments (10)
Tags: balsamic, beef, Cooking, flank steak, food, recipes, rosemary, steak


The URI to TrackBack this entry is: /2012/02/19/rosemary-flank-steak/trackback/
RSS feed for comments on this post.