It isn't sesame oil. But it is a fair sesame oil substitution. Recreating a low amine sesame oil flavor is not really possible, given that all the most likely suspects (nuts, mushrooms, etc) are very high in amines. However, using burdock root (gobo root) gives the oil a somewhat medicinal, smoky bitterness that works in a similar way to sesame oil. The sesame oil substitution is a far milder flavor than sesame oil, so you may need to use more than you would sesame oil.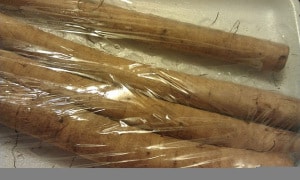 Burdock root / Gobo root
1/4 C safflower oil
1/4 C gobo root / burdock root chopped, heaping full
1 Tbsp chopped ginger
8 medium cloves garlic
Put all ingredients in a small saucepan.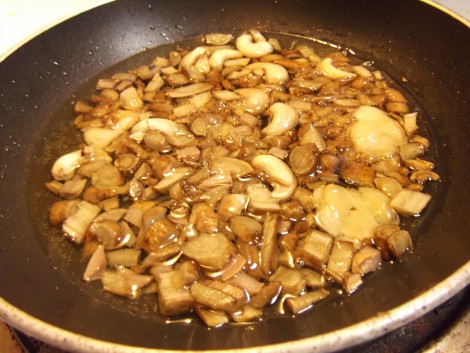 Sesame oil substitution ingredients before cooking
Heat very, very low for an hour (it should not even be browning, just bubbling slightly). Stir occasionally and try to make sure ingredients are covered by oil as much as possible.
Turn heat to low where it is still very low but will start to brown the ingredients. Cook for 30 minutes. It should be quite browned and crisp by the time the 30 minutes are up.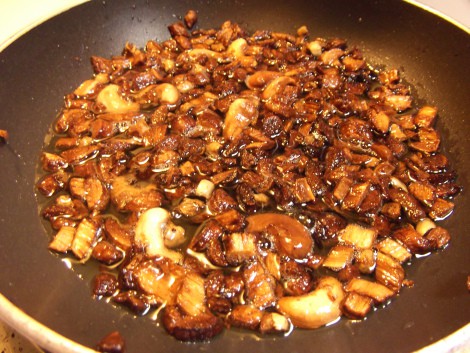 Sesame oil substitution right before straining
Allow to cool, then strain out solids. I use a citrus press to press oil out from the solids.
Store oil in refrigerator for up to a month.
Use in recipes that call for sesame oil.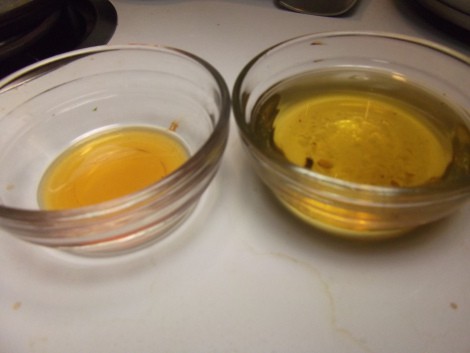 Sesame Oil on the Left; Low Amine Sesame Oil Substitution on the Right. Cooking foods for extended times increases amines, but the sesame oil substitution is still much lower in amines overall.
AMINE BREAKDOWN:
Very Low Amine: gobo root / burdock root, ginger, garlic
Low Amine: safflower oil
Related articles
47.606209 -122.332071Published in:
on October 2, 2011 at 1:10 pm  Comments (14)
Tags: burdock, Cashew, gobo, Grape seed oil, oil substitution, sesame, Sesame oil, sesame oil substitution, sesame substitution


The URI to TrackBack this entry is: /2011/10/02/sesame-oil-substitute/trackback/
RSS feed for comments on this post.