Soy sauce is sorely missed in my home. I'm low amine, so shouldn't use it, and my roommate is soy-free. Between the two of us, we miss Asian cooking something wicked. With a lot of recipe combining and a lot of substitutions, I was able to come up with this gluten-free, soy-free, low-amine, dairy-free, nut-free, low-fat, nightshade-free, tomato-free soy sauce substitute.
It will keep in the fridge for about a week in a tightly closed Tupperware or jar. This low amine soy sauce substitute can also be frozen in ice cube trays for later use, though I found that freezing tended to dull the flavors a bit – more garlic, ginger, and white pepper should be added if you're planning on freezing the soy sauce. Also, the soy sauce substitute was stubborn and would not freeze completely though, so it is best left in the cube tray, or freezing in small jars or tupperwares that can be thawed all at once.
Update: Tried using this with my baby bok choy recipe and no one at the table could tell it was a soy sauce substitute, including myself.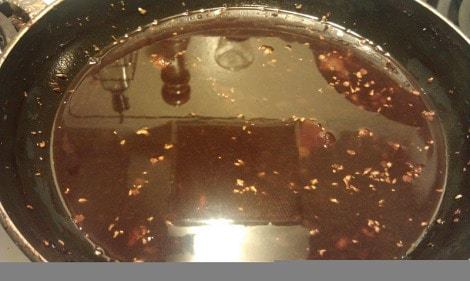 Soy sauce substitute (gluten-free, soy-free, and low-amine)
1 1/2 C blueberry juice, reduced over high heat to 1 C
3 C organic beef broth or chicken broth
2 T molasses
2 tsp ascorbic acid
2 tsp grated ginger
1/2 tsp liquid smoke
1/2 tsp white pepper
1 T salt
4 large garlic cloves, pressed
2 T vodka
Reduce blueberry juice.
Combine all ingredients except vodka in a medium saucepan over medium high heat.
Bring to a boil and reduce to a simmer.
Simmer until reduced to a 1 1/2 to 1 cup of soy sauce substitute is left (about 25 minutes).
Add vodka.
Strain.
Keeps for up to a week in the fridge.
Shake before using.
Can also be used as a Worcestershire substitute.AMINE BREAKDOWN:Very Low Amine: ascorbic acid, ginger, liquid smoke, white pepper, salt, garlicLow Amine: organic beef broth or chicken broth, molasses, vodkaHigh Amine: blueberry juice (high in histamines, low in tyramines)
Related articles
47.606209 -122.332071Published in:
on September 26, 2011 at 8:19 pm  Comments (25)
Tags: ascorbic acid, Cooking, gluten-free, Gluten-free diet, Soy sauce, soy sauce substitute, soy-free


The URI to TrackBack this entry is: /2011/09/26/soy-sauce-substitute/trackback/
RSS feed for comments on this post.