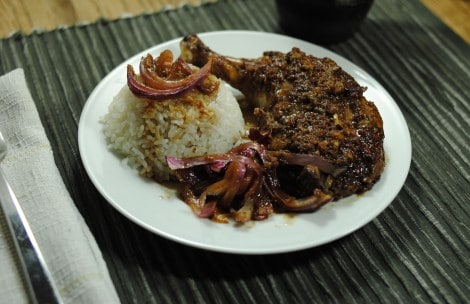 Teriyaki Chicken (low-amine, soy-free, gluten-free, dairy-free, tomato-free, low-carb, paleo)
Low-amine teriyaki chicken is a real treat, since soy sauce is high in amines. It is easily made, though, with a little low-amine soy sauce substitute and sesame oil substitute!
1/2 C soy sauce substitute
1/4 C sesame oil substitute
6 medium cloves garlic, pressed
1 heaping Tbsp ginger, grated
1 Tbsp sugar
1 tsp cornstarch
Two chicken legs & thighs
1/4 red onion, cut into slices
Mix all ingredients together (except onions) in a large Ziplock bag until sugar is dissolved.
Let marinate for four hours, flipping halfway through.
Preheat oven to 375 degrees.
Lay marinated legs down in a Pyrex pan and lay onions around them. Add about 1/4 C of the marinade. Baste twice during cooking.
Bake for 25 minutes, or until internal temperature reaches 165 degrees.
Serve hot with rice.
AMINE BREAKDOWN:Very Low Amine: garlic, ginger, cornstarch, skinless chicken legs and thighs, onionLow Amine: soy sauce substitute, sesame oil substitute, sugar
Recommended Articles:
47.606209 -122.332071Published in:
on April 10, 2012 at 8:04 pm  Comments (13)
Tags: Chicken, Cooking, food, Japanese food, recipes, teriyaki


The URI to TrackBack this entry is: /2012/04/10/teriyaki-chicken/trackback/
RSS feed for comments on this post.