These low amine, low-fat turkey meatballs put a tart and spicy twist on regular meatballs. Low amine CAN be delicious. I'm playing with a version of this low amine turkey meatball to see whether I can turn it into a saucy appetizer, too. More to come!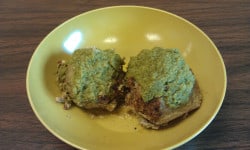 2 lbs lean ground turkey
1/2 C garlic breadcrumbs
2 eggs
Seasoning Mix:
1 Tbsp blackening seasoning
1 Tbsp garlic powder
1 Tbsp Montreal Spicy Steak seasoning
1 Tbsp sea salt
1 Tbsp cayenne
Sauce Mix:
2 bunches well-washed, chopped cilantro (about 2 cups)
10 cloves garlic
1″ fresh ginger, chopped
1/2 medium yellow onion, chopped
1 1/2 tsp ascorbic acid
1 tsp sugar
3 Tbsp water
Preheat oven to 375 degrees.
Add turkey, breadcrumbs, and eggs to a large bowl and knead together.
Mix all dry seasonings together on a plate.
Roll turkey into large meatballs and roll meatballs it in the seasoning mix. Pat seasonings into the turkey meatballs gently.
Arrange turkey meatballs in Pyrex pan.
Cook for 20 minutes, covered.
Add all "sauce mix" items to a food processor and puree until smooth.
After cooking 20 minutes, uncover turkey meatballs, drain off most the liquid with a spoon (I leave about 1/4″ liquid in the bottom).
The turkey meatballs probably shrank some. I push them together closely so that less sauce gets wasted.
Pour a heavy dollop of cilantro puree over the top of meatball.
Bake 375 degrees uncovered for 10 minutes.
Serve.
AMINE BREAKDOWN:
Very Low Amine: breadcrumbs, cilantro, garlic, ginger, onion, ascorbic acid, garlic powder, salt, water
Low Amine: sugar, turkey
Moderate Amine: egg, blackening seasoning, Montreal Spicy Steak Seasoning
Very High Amine: cayenne
Related articles
Curried Cilantro Chicken Drumsticks (low-amine, gluten-free, soy-free, dairy-free, tomato-free, coconut-free, low-fat, low-carb) (aminerecipes.com)
Shredded Beef with Cumin and Cilantro (aminerecipes.com)
Low-Amine Teriyaki Tofu Cabbage Wraps (aminerecipes.com)
Pickles, pickles, pickles, and all Low-Amine (aminerecipes.com)
Larb Gai (Thai Chicken Salad) (low-amine, gluten-free, soy-free, dairy-free, nut-free, fish-free, shellfish-free, paleo, low-fat, low-carb, healthy) (aminerecipes.com)
47.606209 -122.332071Published in:
on August 10, 2011 at 6:49 pm  Leave a Comment
Tags: cilantro meatball, cilantro turkey, Cooking, food, garlic meatball, garlic turkey meatball, low-fat, Meatball, recipes, turkey meatball


The URI to TrackBack this entry is: /2011/08/10/cilantro-limeturkey-meatballs/trackback/
RSS feed for comments on this post.