Vietnamese Vermicelli Bowls (bun) (low-amine, gluten-free, soy-free, dairy-free, fish-free, shellfish-free)
I love bun (Vietnamese vermicelli rice noodle bowls). So totally delicious, and a good meal for summer or winter! But I know there are things in it that are no good for me, like sesame oil, fish sauce, vinegar, and more. So I took them out and made it happen without it.
In order to make Vietnamese Beef Vermicelli Bowls (Bun), including the bun sauce – nuoc cham, I had to go through several steps.
I also made two different marinades for the beef (since I was cooking for several people this time around). Both were very good, so either would work well, depending on what ingredients you have. Personally, I preferred the garlic ginger beef marinade. Feel free to substitute beef with firm tofu for a vegan or vegetarian option, or omit completely. If nut-free, simply omit nuts. There are so many flavors going on that you won't miss it. Promise. 🙂
The day before making the vermicelli noodle bowls, I made a few things ahead of time, since they were the most time-intensive:
I suggest making these (at least #2 & 3) in a larger batch ahead of time so that you can freeze your leftover soy sauce substitute (in an ice cube tray works best) for future use. Store your leftover sesame oil substitute in the fridge.
Serves four hungry folks
Pickled Carrots & Daikon Radish Recipe:
2 large carrots

4″ long piece of daikon radish, about 2-3″ in diameter

1/4 C salt

3 tsp ascorbic acid

1 tsp sugar
Nuoc Cham Ingredients:
1/2 C water

2 tsp apple or blueberry juice

1/4 tsp ascorbic acid

just shy of 1/2 C lime juice

2 tsp sugar

1 Tbsp minced Serrano pepper or Thai bird chilies

5 cloves garlic, pressed

1 tsp black pepper

2 Tbsp soy sauce substitute

2 "pickled" carrot slices

2 "pickled" daikon slices
Marinade #1 – Lemongrass Beef and Marinade Ingredients:
2 lb chuck beef (Use a well-marbled cut if possible. Top or bottom round beef, skirt steak, or flank steak all work well, but feel free to use whatever you'd like. Cut against the grain… I didn't, and it was a very "tough" mistake to learn.)

4 stalk lemongrass, outer layers removed, chopped

1/2 ripe, sweet apple, cored and chopped

3 Tbsp soy sauce substitute

1 Tbsp lime juice

1 Tbsp black pepper

4 garlic cloves

2 large shallots

4 Tbsp sesame oil substitute
Marinade #2 – Garlic Ginger Beef Marinade Ingredients:
1/2 C ginger

8 garlic cloves

2 Tbsp soy sauce substitute

2 tsp sesame oil substitute

1 tsp ascorbic acid

1/2 tsp salt

3 Tbsp safflower oil
Vermicelli Noodle Bowl Ingredients:
1 1/2 packages of vermicelli rice noodles or bean threads (it's less authentic, but I prefer the texture of the bean thread vermicelli noodles

1 C mint leaves

1/2 C beefsteak (perilla / shiso) leaves

1 C Thai basil leaves

1 bundle cilantro (cut off bottom 2″ of stems and discard or save for something else, perhaps a batch of cilantro chutney), washed and chopped

1 C bean sprouts

1 English cucumber, julienned

1 C lettuce, thinly chopped

1/4 C crushed cashews, toasted

2 Tbsp shallots, chopped

2 Tbsp safflower oil

Pinch sugar

Pinch salt
Pickled Daikon Radishes & Carrots Recipe:
Wash carrots and daikon radish.
Cut daikon and carrots into pieces about 1.5″ – 2″ long, and use a mandoline to slice them into flat pieces.
Julienne daikon and radish, and in a large bowl, rub them down with the salt.
Leave on the counter for at least 2 hours (4-6 hours is ideal to give them a bendy pickle-like texture), then rinse well, three times (or more, if it still tastes too salty – taste to check saltiness). Squeeze water and out of the carrots and daikon "pickles."
Once the salt content has been reduced, sprinkle with ascorbic acid and sugar, and rub well.
Allow to chill in the fridge before use for at least 30 minutes.
Nuoc Cham Recipe:
Take two "pickled" carrots and two daikon "pickles" and slice them very thinly, and then down again into lengths about one inch long.
Mix all ingredients together in a jar and seal. Shake well until sugar is dissolved.
Marinade #1 – Lemongrass Beef & Marinade Recipe:
In a food processor, combine chopped lemongrass, apple, garlic cloves, and shallots. Process until finely minced.
Add soy sauce substitute, lime juice, black pepper, sesame oil substitute. Mix well.
Cut beef into 1/4″ strips.
Add all marinade and beef strips to a Ziplock bag and press air out. Marinate for at least 2 hours.
Marinade #2 – Lemongrass Beef & Marinade Recipe:
In a food processor, mince ginger.
Add all other ingredients and process until smooth.
Cut beef into 1/6″ thick strips.
Add all marinade and beef strips to a Ziplock bag and press air out. Marinate for at least 2 hours.
Vietnamese Vermicelli Noodle Bowl Recipe:
Wash and de-stem Thai basil and mint.
Wash, dry, and roll beefsteak leaves up into a little "cigar." Chop thinly to create narrow slivers of beefsteak leaves.
Boil water, and add noodles. Cook as per instructions on package, drain, and run under cold water to cool immediately and completely.
Heat oil in a small sauce pan. When hot, add shallots and a pinch of salt and sugar. Cook until shallots are crisp.
Reserve shallots for topping vermicelli noodle bowl. Toss noodles with oil.
Put the noodles in bowls with the fresh ingredients arranged on top like the face of a clock (basil at 1:00, mint at 3:00, bean sprouts at 5:00, etc).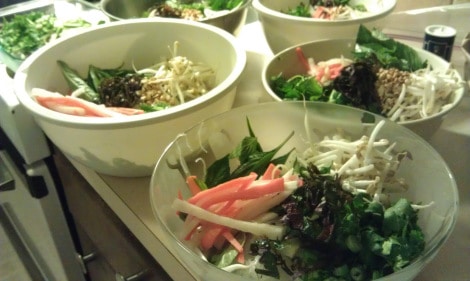 Vietnamese vermicelli noodle bowls (bun) being arranged (low-amine, gluten-free, soy-free, dairy-free, fish-free, shellfish-free)
Leave a fair amount of space for the grilled beef. I like to put the fried shallots, toasted cashews, and thinly sliced beefsteak leaves in the center of the dish, as they present beautifully.
Cooking Beef Recipe:
Cook on the grill over medium high heat (use a grill basket so that they don't fall through).
Grill basket
The beef will cook quickly. Cook for one minute, flip, and cook one minute on the other side.
Remove from heat promptly.
Garlic ginger beef, about to be sliced up for Vietnamese vermicelli noodle bowls (low-amine, gluten-free, soy-free, dairy-free, fish-free, shellfish-free)
When all beef is done cooking, slice strips into bite-sized 1″ segments.
Serve on top of the bun (vermicelli noodle bowls) with other assorted ingredients.
If a grill is not available, you can also cook it in a pan or under the broiler.
AMINE BREAKDOWN:Very Low Amine: carrot, daikon radish, salt, ascorbic acid, water, apple juice / blueberry juice (low in tyramines, high in histamines), garlic, black pepper, soy sauce substitute, lemongrass, shallot, sesame oil substitute, ginger, safflower oil, vermicelli noodles / bean threads / vermicelli rice noodles, mint, beefsteak (perilla / shiso), Thai basil leaves, cilantro, bean sprouts, Low Amine: sugar, beef, cashews, appleVery High Amine: Serrano peppers / Thai bird chilies, lime juice
47.606209 -122.332071Published in:
on January 31, 2012 at 9:08 am  Comments (17)
Tags: Cooking, daikon, food, Garlic, noodles, Nuoc Cham, recipes, rice noodles, Sesame oil, Soy sauce, Thai basil, Vietnamese cooking


The URI to TrackBack this entry is: /2012/01/31/vietnamese-vermicelli-noodles/trackback/
RSS feed for comments on this post.