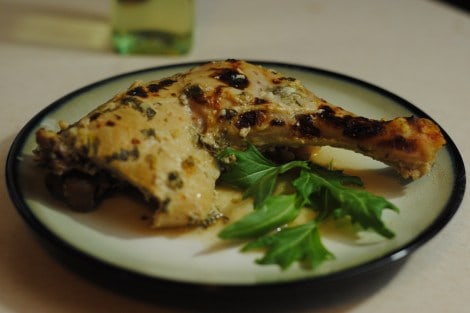 Garlic, "Lemon," Mint, & Yogurt Marinated Chicken
Chicken is one of those love-hate meals for me. When it's well marinated, I love it. But otherwise it's just a bit boring for my tastes. I decided rather than a short-marinade, I'd let the chicken marinate in the yogurt sauce for almost 24 hours. It was definitely the right choice. They turned out succulent and had a nice "lemon" kick to it from the ascorbic acid.
2 chicken breasts & legs with thighs (all skinless)
1 1/2 C plain yogurt
1 C chopped mint
1 Tbsp cumin
8 large cloves garlic, pressed
2 Tbsp onion powder
1 tsp salt
2 tsp ascorbic acid
Mix all ingredients together in a Ziplock bag, and ensure chicken is well coated.
Press all air out of the bag, and leave it in the fridge to marinate, flipping over halfway through if possible. Marinate for 24 hours.
Preheat oven to 400 degrees on the middle rack.
Chicken covered in low-amine marinade of yogurt, mint, garlic, & ascorbic acid.
Cover chicken and bake for 30 minutes.
Raise rack to the highest possible. Uncover chicken, baste well, and broil for 3 minutes.
Baked and broiled yogurt-marinated low-amine chicken, ready for plating. Legs/thighs can be plated as is. Breast should be sliced on a diagonal into pieces.
Serve chicken plated with juices.
AMINE BREAKDOWN:Very Low Amine: mint, cumin, salt, ascorbic acidLow Amine: skinless chicken, garlic, onion powderModerate Amine: yogurt
47.606209 -122.332071Published in:
on February 21, 2012 at 8:32 pm  Comments (25)
Tags: Chicken, Cooking, food, Garlic, marinade, mint, recipes, yogurt


The URI to TrackBack this entry is: /2012/02/21/yogurt-marinated-chicken/trackback/
RSS feed for comments on this post.