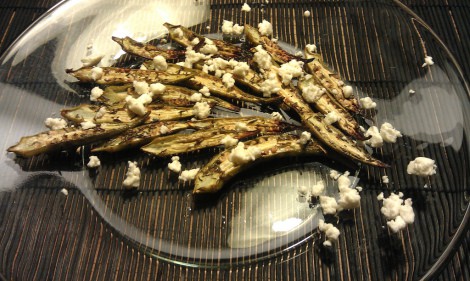 Baked okra with feta
Okra is delicious fresh, just barely cooked, or fried. Cooking it can get tricky, though. It has a tendency, when not cooked properly, to develop a huge amount of slime. I've been challenging myself to come up with tasty, different ways to use okra, and this one definitely hit the spot. This low amine okra dish is a side dish that everyone will love, even those who haven't liked okra in the past.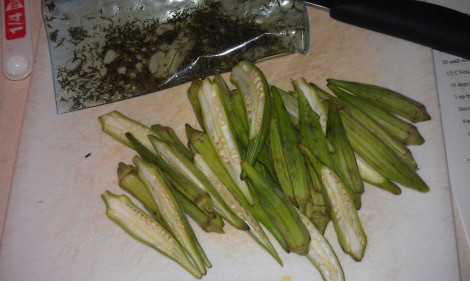 Raw okra and seasoning bag
20 small okra
2 Tbsp Feta, finely crumbled
15 drops black truffle oil (omit or reduce if extremely amine sensitive)
1 tsp thyme
Heavy pinch salt
Pinch of white pepper
1/4 tsp (heaping) ascorbic acid
2 Tbsp safflower oil
2 tsp water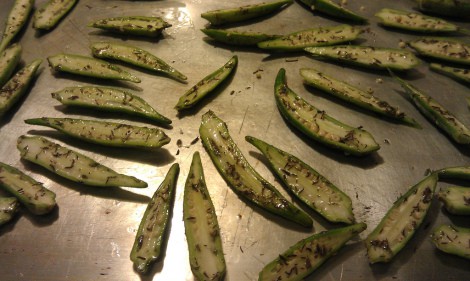 Seasoned raw okra
Preheat oven to 350 degrees, and lightly grease a cookie sheet.
In a quart sized ziplock, add ascorbic acid, water, truffle oil, salt, white pepper, thyme, and grapeseed oil.
Make sure you choose small, evenly sized okra so that they cook at the same rate.
Wash okra with cold water and pat dry. Having everything dry with okra is important to prevent the mucus/slime that okra is known for when prepped or cooked improperly.
On a dry cutting board, with a dry knife, cut okra lengthwise.
Put okra in bag, seal, and shake vigorously for a few seconds to ensure all the okra is well coated.
Lay okra on cookie sheet, seed side up. Bake on middle rack, uncovered, for 20 minutes.
Serve with feta crumbled over the top.
AMINE BREAKDOWN:Very Low Amine: okra, thyme, salt, white pepper, ascorbic acid, safflower oil, waterLow Amine: fetaVery High Amine: truffle oilPublished in:
on September 14, 2011 at 9:22 pm  Comments (3)
Tags: amine, Cooking, cooking okra, feta, Okra, okra recipe, side dish, truffle oil


The URI to TrackBack this entry is: /2011/09/14/baked-okra/trackback/
RSS feed for comments on this post.