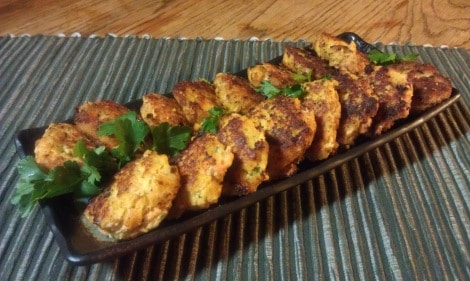 Fish patties (low-amine, gluten-free, soy-free, dairy-free, low-fat, low-carb, paleo)
Fish patties make a nice low-carb option to larger patties of the burger variety. They are filling, flavorful, and make a great addition to any meal. I highly suggest serving it with a sauce or flavorful oil with an ascorbic acid vinegar substitute (suggestions: nuoc cham, Sesame Oil Substitute cilantro chutney, or cashew cream (sour cream substitute)).
2 lbs minced cod
1 carrot, grated
1/2 yellow onion, chopped
1/2 C chopped green onions
1 egg
1/3 C ground cashews
1 tablespoon low-amine mayonnaise
4 Tbsp minced garlic
1 tsp freshly ground black pepper
2 Tbsp minced parsley
1 Tbsp safflower oil
In a large bowl, mix together all the ingredients. Form into small (1 1/2″ – 2″ diameter) patties.
Fish patty ingredients
Turn burner to medium and heat a pan with a bit of oil (you can use less if you use a non-stick pan).
Arrange fish patties in the pan, but leave plenty of room to flip them.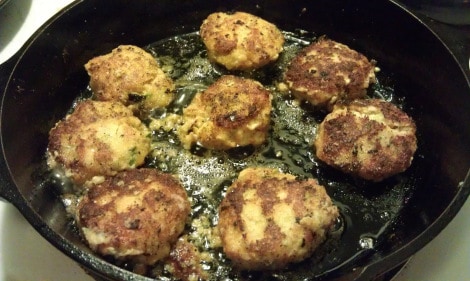 Fish patties frying in a cast iron skillet
Cook, uncovered (10 minutes each side) or until golden brown.
AMINE BREAKDOWN:
Very Low Amine: carrot, onion, green onion, garlic, black pepper, parsley
Low Amine: cod, egg, cashew, low-amine mayonnaise, safflower oil
47.606209 -122.332071AdvertisementsPublished in:
on February 3, 2012 at 4:54 pm  Comments (20)
Tags: Cooking, fish, food, onion, recipes


The URI to TrackBack this entry is: https://aminerecipes.com/2012/02/03/fish-patties/trackback/
RSS feed for comments on this post.