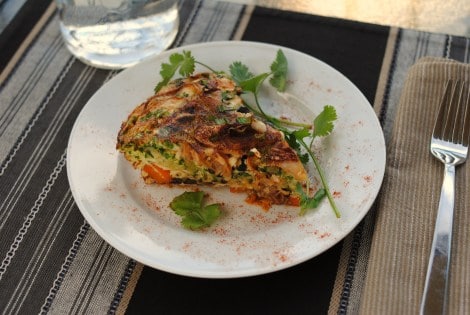 Low-Amine Layered Frittata (low-amine, gluten-free, soy-free, dairy-free, nut-free, low-fat, low-carb, paleo, vegetarian)
Frittatas are easy to make and very tasty. I like this one for the way it presents – you can see all the different ingredients, layered beautifully. Eggs do increase in amine content the more you cook them, so this dish is closer to moderate amine than low. You can also make this dish with regular beaten eggs, rather than making an egg white frittata.
9″ Pyrex pie pan
3 C egg whites
2 large carrots, sliced into thin ovals
1 leek, white parts only, sliced thinly
2 small zucchini, sliced thinly
1 C cilantro, chopped finely
3 green onions, chopped
6 cloves garlic, pressed
1 1/2 tsp paprika
1 tsp chili powder
1/2 tsp salt
1/2 tsp black pepper
1 C black beans, divided (1/2 C, 1/2 C)
4 Tbsp butter / non-dairy butter replacement (I like Earth Balance dairy-free, soy-free spread)
Preheat oven to 350 degrees.
In three small pans heat 1 Tbsp butter in each. Cook carrots, leeks, and zucchini with pressed garlic separately in each pan until the vegetables are about halfway cooked.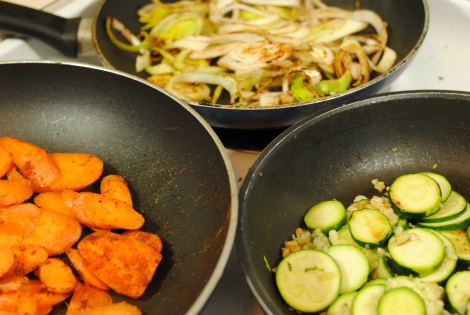 Carrots, Leek, and Zucchini cooking in separate pans for frittata (Here, I cooked the garlic and spices in with separate ingredients. I do not think it was necessary, aside from cooking the garlic with the zucchini.)
Add paprika, chili powder, salt, and black pepper to eggs. Mix well.
Grease pie pan with remaining 1 Tbsp "butter."
Layer your low-amine frittata ingredients.
Layer ingredients, starting with carrot on the bottom. I layer mine in this order:
carrot
1/2 C black beans
zucchini
cilantro
1/2 C black beans
leek
add egg white mixture
sprinkle green onions on top
Sprinkle a dash of chili powder and salt over the top and bake for 35 minutes, or until you can cleanly pull a wooden toothpick through the center.
Low-amine frittata is ready to bake!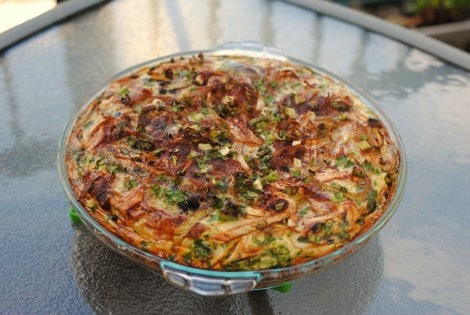 Low-amine frittata (low-amine, gluten-free, soy-free, dairy-free, nut-free, low-fat, low-carb, tomato-free, paleo, vegetarian).
AMINE BREAKDOWN:
Very Low Amine: carrot, leek, zucchini, cilantro, green onion, garlic, salt, black pepper, black beans
Low Amine: butter / non-dairy butter replacement 
Moderate amine: egg whites (due to long cooking time)
Very High Amine: paprika, chili powder
47.606209 -122.332071Published in:
on April 17, 2012 at 3:31 pm  Comments (12)
Tags: amine, Cooking, dairy-free, food, frittata, gluten-free, low-carb, low-fat, recipes, soy-free, vegetarian, yolk-free


The URI to TrackBack this entry is: /2012/04/17/layered-frittata/trackback/
RSS feed for comments on this post.