I love cilantro. I love it so much that I could literally eat it by the handful. Which is, essentially, what I end up doing when I make low amine cilantro chutney. Except it's by the spoonful. Nom.
Low Amine Cilantro Chutney
1 large bundle cilantro, well washed
1″ piece of ginger, roughly chopped
1 Tbsp fresh green chilies (I like Serrano or Thai bird chilies)
1 tsp sugar
1 tsp ascorbic acid
3 Tbsp water
3 green onions
Put everything in a food processor and pulse until rough, then puree till mostly smooth.
Serve, or just pour the cilantro chutney into your mouth straight from the container. That's what I do.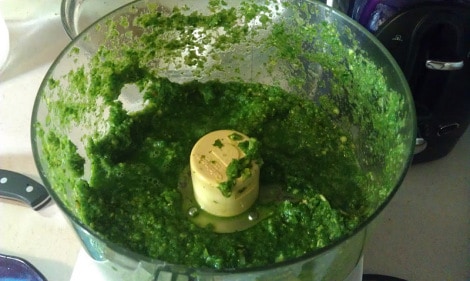 Low Amine Cilantro Chutney, finished texture
Related Posts:Low Amine Tandoori Turkey with Indian Spiced GravyCajun TurkeyCardamom Saffron Rice
AMINE BREAKDOWN:
Very Low Amine: cilantro, ginger, ascorbic acid, water, green onion
Low Amine: sugar
Very High Amine: green chilies
47.606209 -122.332071About these adsPublished in:
on December 4, 2011 at 9:05 pm  Comments (12)
Tags: chutney, cilantro, Cooking, food, ginger, Indian, recipes, sauces


The URI to TrackBack this entry is: /2011/12/04/low-amine-cilantro-chutney/trackback/
RSS feed for comments on this post.