Low Amine No-Tomato Marinara and Quinoa Pasta
Of all the things I miss since going on a low-amine diet, the thing I miss most is marinara. I could literally eat marinara every single day, in a multitude of ways. Since my low amine diet, I have only treated myself to a bite or two here or there (and felt the consequences).
Tomatoes absolutely destroy my amine threshold. I've been trying to come up with ways to substitute tomato and give myself that marinara fix, and came up with wonderful tomato substitution.
4 Granny Smith apples, peeled
3 medium yellow or white onions
3  medium red onions
1 large bay leaf
6 Tbsp dried oregano
3 Tbsp Italian seasoning
1 tsp salt
2 tsp fresh ground black pepper
4 Tbsp chopped fresh parsley
12 cloves minced/pressed garlic
4 Tbsp balsamic vinegar
1 Tbsp paprika
About 4 C Stock (chicken, veggie, or beef broth), enough to cover all ingredients
4 Tbsp safflower oil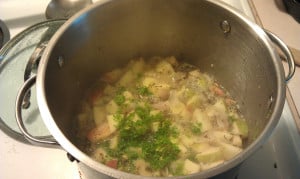 Just added the stock, spices, and apples
Peel outer layer off onions and core apples.
Chop onions and apples into small pieces (no bigger than 1/2″ x 1/2″).
In a large, thick-bottomed stock pot, saute onion pieces and garlic in oil (medium high heat) until they become opaque.
Add apples and broth, enough to cover solids, and turn up heat.
Once at a boil, turn down heat to a low simmer and add bay leaf, oregano, Italian seasoning, salt, parsley, paprika, and pepper.
Simmer on low, covered, for 40 minutes. Stir as necessary.
Remove from heat and discard bay leaf.
Carefully (don't burn yourself!) use a potato masher to break down apples and onions until the texture of chunky/thick marinara. If you prefer a thin sauce, you can opt to use an immersion blender instead.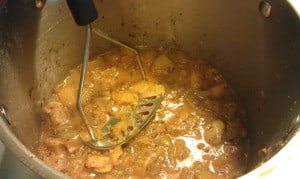 Mashing the apples & onions.
Put back on low heat uncovered for 10 minutes, stirring often. The sugars in the apples can cause the sauce to burn if not careful.
Add balsamic vinegar.
Serve as you would regular marinara.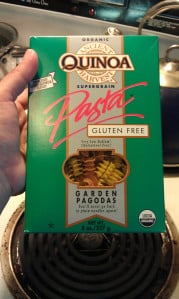 Gluten-free quinoa noodles
AMINE BREAKDOWN:
Very Low Amine: onion, bay leaf, oregano, Italian seasoning, salt, pepper, parsley, garlic
Low Amine: peeled apples, safflower oil, stock
Very High Amine: balsamic vinegar, paprika (more for color than flavor – feel free to omit)
NOTE: This sauce freezes and reheats very well.
47.606209 -122.332071Published in:
on August 14, 2011 at 7:27 pm  Comments (12)
Tags: apple, low amine, marinara, marinara substitute, no tomato marinara, no tomato sauce, onion, pasta sauce, tomato substitute, tomato-free


The URI to TrackBack this entry is: /2011/08/14/no-tomato-marinara-1/trackback/
RSS feed for comments on this post.