Marinated Tofu Ties with Balsamic Ginger Sauce
This low-amine dish is so tasty, and presents beautifully. It even looks a bit like a present, with the green onion tied around it. It can be served as an appetizer, or a few per plate for a light entree. It is easier if you have the balsamic vinegar substitute and soy sauce substitute already made. Since the tofu has to marinate overnight, you have plenty of time to make the low-amine balsamic vinegar substitute.
4 Tbsp blueberry juice, reduced over high heat to 2 Tbsp
1/2 tsp ascorbic acid
1/4 tsp molasses
1 tsp vodka
1/4 tsp lime juice
Reduce blueberry juice to 2 Tbsp.
Mix in all other ingredients.
3 tsp molasses
3/4 C blueberry juice, reduced over high heat to 1/2 C
1 tsp ascorbic acid
2 tsp vodka
1/2 tsp lime juice
1/2 teaspoon grated ginger
just shy of 1/4 tsp liquid smoke
1 pinch white pepper
1 1/2 tsp salt
1 small clove garlic, pressed
1 1/2 cups organic beef broth or chicken broth
Combine all ingredients in a medium saucepan over medium heat.
Bring to a boil and reduce to a simmer.
Simmer until reduced to a 2/3 to 1/2 cup of soy sauce substitute is left (about 20 minutes).
Keeps for up to a week in the fridge.
Shake before using.
Marinated Tofu Recipe
1 block soft tofu
2 Tbsp sugar
1/2 C soy sauce substitute
4 tsp garlic, minced
1 1/2 tsp ginger, grated + 1 tsp ginger, grated for garnish
1/4 tsp cayenne
1/2 lime, juiced
6 shiso leaves, rolled and chiffonade
8 green onions
1 large shallot
1/4 C safflower oil
Marinated Tofu Sauce Recipe
1 Tbsp balsamic vinegar substitute
1 tsp ginger, grated
1 tsp safflower oil
Cut tofu block into 8 pieces.
Cut tofu block into 8 pieces
Lay into a deep pan that gives tofu just enough room between pieces to marinate fully.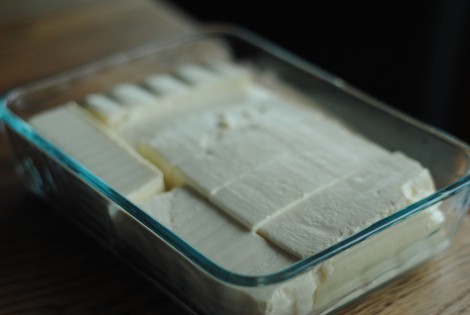 Lay tofu in a pan to marinate. This pan was a bit small, to be honest.
In a small bowl, combine low-amine soy sauce substitute, sugar, garlic, lime, and 1  1/2 tsp grated ginger. Mix until well dissolved. Pour over the tofu and let marinate overnight.
Preheat oven to 275 degrees.
Lay tofu out on cookie sheet or aluminum foil (use one with walls or you may regret it). Sift garlic out of sauce (I use a tea strainer) and cover tofu pieces. Bake for two hours.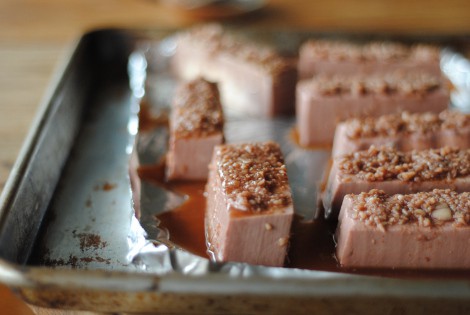 Marinated tofu with strained sauce bits on top, ready to bake
Meanwhile, boil water in a large pan. Cut tips off green onions and add them to the boiling water. When very pliable but still bright green, drain water and allow to cool.
In a small bowl, combine balsamic vinegar substitute, ginger, and safflower oil for the low-amine balsamic ginger sauce. Set aside.
Using a mandoline, slice your shallot thin. In a small saucepan, heat safflower oil and fry shallots until slightly browned and crisp. Do not overcook – once they start to brown, keep a close eye on them. Burning happens quickly. Allow to dry on a paper towel. Reserve oil for other recipes (I keep mine in small mason jars in the fridge).
Frying shallots
Remove tofu from oven and allow to cool for handling.
Cut the long edges of the tofu off so that the white tofu is exposed. Leave the browned ends for contrast.
Squeegie the green onions between your fingers to get the juices and water out of it. You want them to be as flat as possible without damaging the green onion.
Lay the green onion underneath the tofu slice. Put a pinch of fried shallots on top. Tie the green onion in a knot. Add a pinch of grated ginger, and a pinch of the shiso chiffonade.
Plate with balsamic ginger sauce beneath the marinated tofu tie.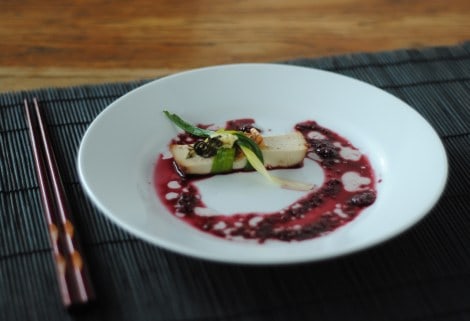 Marinated tofu tie with shallots, ginger, and shiso. Wrapped in green onion tie and served with a ginger balsamic vinegar substitute sauce.
AMINE BREAKDOWN:
Very Low Amine: garlic, ginger, lime, shiso leaves, green onion, shallot,  
Low Amine: tofu, sugar, soy sauce substitute, safflower oil, balsamic vinegar substitute
Very High Amine: cayenne
1/4 C safflower oil
Related articles
Balsamic Blackened Cod (low-amine, gluten-free, soy-free, dairy-free, nut-free, paleo) (aminerecipes.com)
Vietnamese Beef Vermicelli Noodle Bowl (Bun) (aminerecipes.com)
Sukiyaki (Japanese Hot Pot) (gluten-free, soy-free, low-amine, vegan) (aminerecipes.com)
Chicken Drumsticks in a Pear, Sage, Ginger Marinade (low-amine, gluten-free, soy-free) (aminerecipes.com)
Basic Stir Fry (soy-free, gluten-free, low-amine) (aminerecipes.com)
Black Truffle Beets (aminerecipes.com)
Featured in Gluten Free Homemaker
47.606209 -122.332071Published in:
on February 13, 2012 at 8:30 pm  Comments (21)
Tags: Asian cuisine, Balsamic vinegar, Cooking, food, ginger, recipes, Soy sauce, tofu


The URI to TrackBack this entry is: /2012/02/13/tofu-ties/trackback/
RSS feed for comments on this post.