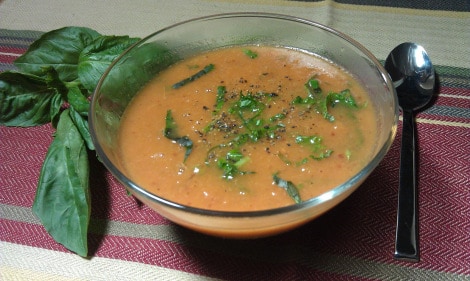 No-Tomato Tomato Soup (low-amine, tomato-free, gluten-free, soy-free)
I miss tomato soup like crazy. Like nothing I've ever missed before. Living with no tomatoes is like living without air, or sex, or chocolate. Oh, wait, I have to live without chocolate, too. Well… Scratch that last one. But a tomato-free existence is not one I care for very much. So I've been on a mission to recreate tomato soup. Tomato soup with no tomato in it.
Tomato-free tomato soup? Is that possible? I've already pulled off a no-tomato ketchup, and a tomato-free BBQ sauce. Perhaps tomato-free tomato soup is possible, too…
After about 3 hours in the kitchen working on alterations, this is as close as I have come so far. I'm sure there is more I can do with it, but my taste buds aren't tasting anymore. Rather than make you wait another few months for the recipe, I'm going to go ahead and post it. It's close enough to be a satisfying substitute, though it's not as close as I would like to have it to be 100% happy with it. If you have suggestions, please feel free to leave a comment below.
1 C cranberries
1 2/3 C carrots (about 3 carrots)
1 large pear
30 leaves basil, fresh (about 1/3 C loosely packed, sliced finely)
1 Tbsp onion
4 ribs celery
2 C chicken stock (vegetable stock, if vegan/vegetarian)
1 small clove garlic
3 Tbsp sugar
1/8 tsp salt
1/4 tsp black pepper
1/8 tsp clove, ground
1 tsp ascorbic acid
1 large bay leaf
2 C water
Juice of 1/2 lime
Pull tough fibers on the outside of celery ribs off and discard. Chop celery.
Chop carrots.
Cut up pear and discard core.
Simmer all ingredients (except for basil, water and lime juice) in a large pot for 25 minutes, covered.
Remove from heat.
Puree (in sections, if necessary) in a food processor until very smooth.
Add 2 C water, lime juice, and the majority of your thinly sliced basil to the pureed batch and mix together well.
Serve hot and garnish with a pinch of basil on top, and a grind of freshly ground black pepper.
AMINE BREAKDOWN:
Very Low Amine: carrot, pear, basil, onion, celery, garlic, salt, black pepper, ascorbic acid, bay leaf, water
Low Amine: chicken stock, sugar
High Amine: cranberry, clove, lime
Related articles
Featured on Gluten Free Homemaker
47.606209 -122.332071Published in:
on January 16, 2012 at 7:41 pm  Comments (7)
Tags: Cooking, food, nightshade, no tomato, recipes, Tomato, Tomato soup, tomato substitute, tomato-free


The URI to TrackBack this entry is: /2012/01/16/no-tomato-tomato-soup/trackback/
RSS feed for comments on this post.