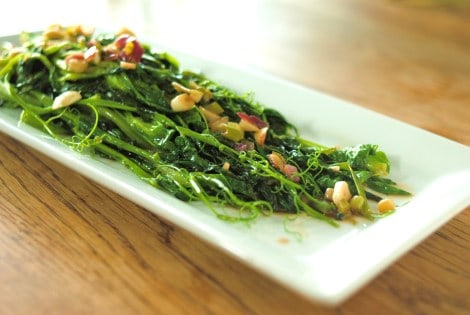 Pea Shoots sautéed in Garlic, Ginger, and Onion (low-amine, gluten-free, soy-free, dairy-free, tomato-free, nut-free, vegan, vegetarian).
Pea shoots are a low-amine, colorful, tender, fun dish to add to any meal (who doesn't like a vegetable with so many curly-Q's in it?). It's light, and comes together very well with the low-amine sauce used. It is simple to make, and can work as a low-amine entrée  or low-amine side dish.
1 bundle pea shoots (tight bundle should be about 4″ in diameter)
1 Tbsp safflower oil
1 Tbsp sesame oil substitute
2 Tbsp soy sauce substitute
2 tsp sugar
1 tsp corn starch
1 Tbsp ginger, grated
6 cloves garlic, chopped
2 Tbsp red onion, chopped finely
Mix sugar, sesame oil substitute, soy sauce substitute, corn starch, and ginger together. Stir until sugar and corn starch are dissolved. Set aside.
Heat 1 Tbsp safflower oil in wok on high temperature.
Add garlic and red onion. Cook until fragrant and onions are starting to go translucent.
Add pea shoots and toss rapidly so that the pea shoots cook quickly and evenly. When they start to soften, add sauce mix and continue tossing pea shoots.
When cooked to desired doneness, remove from heat and plate immediately.
Serve while hot.
AMINE BREAKDOWN:
Very Low Amine: pea shoots, corn starch, ginger, garlic, red onion
Low Amine: safflower oil, sesame oil substitute, soy sauce substitute, sugar
47.606209 -122.332071Published in:
on April 4, 2012 at 4:40 pm  Comments (11)
Tags: Cooking, food, Garlic, ginger, greens, pea shoots, recipes, side dish, vegetables


The URI to TrackBack this entry is: /2012/04/04/pea-shoots/trackback/
RSS feed for comments on this post.