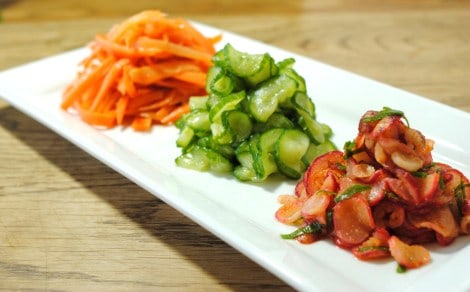 Low-Amine "Soy Sauce" Carrot Pickles, Low-Amine Traditional Cucumber Pickles, and Low-Amine "Kimchee" Radish Pickles.
I made three kinds of low-amine pickles last week. All are made with low-amine ingredients (carrot, cucumber, and radish), and prepared in a low-amine method. The vegetables had to salt in the fridge overnight, but that's about the most ageing these low-amine pickles did.
6 medium carrots
4 large pickling cucumbers (or one narrow English cucumber)
1 bunch radishes
1/4 C salt
1 1/2 tsp ascorbic acid
1 Tbsp soy sauce substitute
1 Tbsp sesame oil substitute
1 Tbsp sugar
1/4 tsp garlic powder
1/4 tsp onion powder
1/4 tsp cayenne powder
1 green onion, green parts only
Wash and cut all vegetables and keep separate. You can do yours however you'd like, but I sliced the cucumbers and radishes thinly, and julienned the carrots. Remember to keep them thin.
Salt liberally and rub salt into vegetables.
Let sit in salt overnight. Give them the occasional rubbing/mixing, and drain off excess liquids that have collected, if you can.
Rinse off vegetables very well. I rinse them at least three times each and give the vegetables a firm massage and squeezing out, to remove as much salt and water as possible. Continue repeating this until they are slightly salty, but not unpalatable.
Coat vegetables in about 1/2 tsp ascorbic acid each, or to taste. It should have a  "pickled" taste, but not be too tart.
Add sugar, soy sauce substitute and sesame oil substitute to the carrots and mix together very well, until sugar dissolves completely.
Slice one green stem of green onion into very thin rings and set aside.
Add garlic powder, onion powder, and cayenne to radishes. Mix well, and add green onion slices in. Toss together.
Present together on a dish, or separately. Chill until used. They will keep for a few days in the fridge.
Pickled carrots, pickled cucumbers, pickled radishes, all done low-amine.
AMINE BREAKDOWN:
Very Low Amine: carrot, cucumber, radish, salt, ascorbic acid, garlic powder, onion powder, green onion 
Low Amine: soy sauce substitute, sesame oil substitute, sugar
Very High Amine: cayenne powder
47.606209 -122.332071Published in:
on April 3, 2012 at 8:31 pm  Comments (25)
Tags: carrot, Cooking, Cucumber, food, pickle, pickles, radish, recipes


The URI to TrackBack this entry is: /2012/04/03/low-amine-pickle/trackback/
RSS feed for comments on this post.