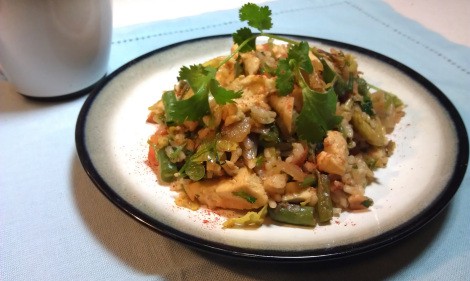 Reduced-carb fried rice (low-amine, gluten-free, soy-free, low-carb, vegetarian)
I love fried rice. But I've been trying to keep my carb count down at a reasonable level. That takes eating a low-amine food that's made up almost completely out of rice "off the table," or so to speak. But what if I were to take fried rice and flip the proportions? For this low-amine, reduced-carb fried rice, it's been turned on its head, with 80% vegetables, and 20% rice. Wouldn't you know it, I didn't even miss the rest of the rice!
Rice Mix:
2 C cooked rice
1 Tbsp safflower oil
Vegetable Mix:
1 tsp butter
1/2 onion, diced
5 Brussels sprouts, cut into four or five slices each
2 small carrots, chopped small
2 ribs celery, chopped
1 lb green beans, washed, stems trimmed off, and chopped
10 cloves garlic, chopped small
3 Tbsp soy sauce substitute
Salt, to taste
1 bunch cilantro, chopped (reserve a few sprigs for garnish, if desired)
Egg Mix:
8 eggs, beaten (I use half egg whites, and half whole eggs)
1/4 tsp salt
1 tsp butter (butter substitute for dairy-free)
Prep all vegetables.
Beat eggs with salt, and heat up a medium non-stick pan to medium high.
Melt 1 tsp butter in pan, and pour eggs in. Using a flexible spatula, scrape eggs off the bottom every 5-10 seconds to create a moist batch of scrambled eggs. While eggs are cooking, heat a large non-stick pan to medium-high and melt butter.
As moisture starts cooking off, reduce heat to medium low. When eggs are done, scoop them into a bowl and set aside.
Note: You can also add other low-amine foods or proteins, but I chose eggs because they hold their shape well and add a nice texture.
Start with onions. Once they start to sweat, add Brussels sprouts, carrots, and garlic. Stir often so the vegetables cook evenly.
Reduced-carb fried rice ingredients, cooking.
After about two minutes, add chopped green beans and celery. Cook until vegetables are nearly done, then add cilantro.
Heat the egg pan back to high and add the oil and rice. Break it apart as much as possible, and stir only often enough to prevent burning – you want to get a slight crisp to the rice. Cook for about four minutes, or until a good portion of the rice has a bit of golden brown coloring.
Chop eggs into small, bite-sized pieces.
In a large bowl, add vegetables, rice, eggs, soy sauce substitute, and salt. Mix together gently until all ingredients are evenly mixed and seasoned.
Mixing together the reduced-carb fried rice.
Serve, garnished with a sprig of cilantro.
AMINE BREAKDOWN:Very Low Amine: rice, onion, Brussels sprouts, carrot, celery, green beans, garlic, salt, cilantroLow Amine: safflower oil, butter, soy sauce substituteModerate Amein: egg
47.606209 -122.332071Published in:
on January 22, 2012 at 11:05 pm  Comments (5)
Tags: Brussels sprout, Fried rice, Garlic, Low-carbohydrate diet, recipes, vegetable


The URI to TrackBack this entry is: /2012/01/22/low-carb-fried-rice/trackback/
RSS feed for comments on this post.