I wanted to make Cajun Spiced Beef Skewers, so needed a sauce. I've adapted a recipe for a Tangy Cilantro Dressing & Marinade from The Daily Dietribe to be low-amine. I used the sauce drizzled over the top of the skewers once served, and saved the rest as a salad dressing.
1/2 C packed cilantro, stems and all1/2 tsp sugar1/3 C fresh lime juice (2 limes)1/4 C apple juice3/4 tsp ascorbic acid4 large garlic cloves1/2 tsp salt1 C safflower oil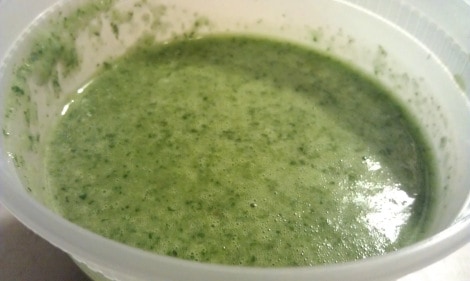 Cilantro Dressing & Marinade
Blend cilantro, garlic, sugar, and lime juice in a food processor until well-processed.
Add all other ingredients and blend.
Serve with a dish, as a dressing, use as a low-amine marinade, or save in a bottle for later in the fridge.
AMINE BREAKDOWN:Very Low Amine: cilantro, lime, ascorbic acid, apple juice, garlic, saltLow Amine: sugar, safflower oil
Related articles
Cilantro Fried Rice (aminerecipes.com)
Tangy Garlic Cod (aminerecipes.com)
47.606209 -122.332071About these adsPublished in:
on December 25, 2011 at 1:53 pm  Comments (6)
Tags: cilantro, Cooking, dressing, food, marinade, recipes, Sauce


The URI to TrackBack this entry is: /2011/12/25/cilantro-dressing/trackback/
RSS feed for comments on this post.