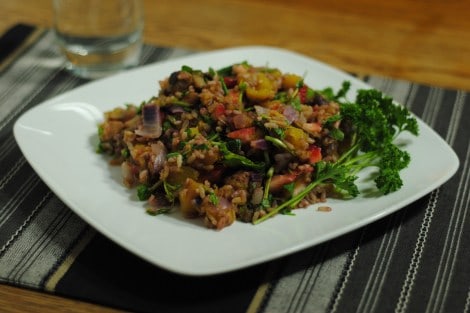 Warm Brown Rice Salad with Chestnuts, Pomegranate, Squash, Red Onion, and Watercress (moderate amine, gluten-free, soy-free, dairy-free, fish-free, tomato-free, egg-free, low-fat, vegetarian, vegan).
Low-Amine Warm Brown Rice Salad makes a great vegetarian entrée, or a side dish. It blends sweet and savory with a bit of a tart edge that keeps your mouth interested. The chestnuts and low-amine squash give it an earthy flavor that help ground the dish.
Yield: 6-8 servings
1 acorn squash
1 medium red onion
4 Tbsp safflower oil, divided (3,1)
2/3 jar chestnuts (about 6-8 chestnuts)
2 C cooked brown rice
1 tsp ascorbic acid
6 Tbsp balsamic vinegar substitute, divided
1 1/2 C pomegranate seeds (in the above photo I used strawberry because three separate stores didn't carry pomegranates. Sad! Strawberries worked well, flavor-wise, but added a lot of amines)
1 C watercress, chopped
1/2 tsp salt
Cut squash in half and remove seeds (save for roasting later, if desired). Roast squash at 400 degrees, cut-side down, in a pan with a half inch water, until just tender. Alternately, you can also cut a slice in the squash with a knife (so that steam can escape), and microwave it for about 8 minutes. Cut in half, seed, and you're done.
Cook brown rice using instructions on the bag.
Once cooled enough to handle, peel squash and cut squash flesh into small cubes (1/2″ x 1/2″).
Dice red onion and saute with 1 Tbsp oil and 1/2 tsp salt until they start to sweat and turn translucent.
Chop chestnuts.
Add squash, chestnuts, 3 Tbsp safflower oil, and red onion to a Pyrex pan. Gently mix well, and roast them at 400 degrees (middle rack) for 20 minutes.
When the roasting is almost done, mix 2 C warm rice with 3 Tbsp balsamic vinegar substitute
Toss roasted ingredients, pomegranate seeds, and watercress with the rice.
Drizzle remaining 3 Tbsp balsamic vinegar substitute over the top and serve, garnished with watercress or parsley.
AMINE BREAKDOWN:
Very Low Amine: acorn squash, red onion, brown rice, ascorbic acid, pomegranate, watercress, salt
Low Amine: safflower oil, balsamic vinegar substitute (high in Histamines due to blueberry juice)
High Amine: chestnuts
Very High Amine: strawberries (only use if necessary – pomegranates are better)
47.606209 -122.332071Published in:
on March 7, 2012 at 9:10 am  Comments (17)
Tags: chestnut, Cooking, food, onion, pomegranate, recipes, rice, squash


The URI to TrackBack this entry is: /2012/03/07/brown-rice-salad/trackback/
RSS feed for comments on this post.