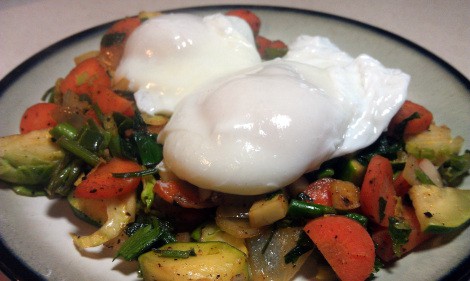 Low-amine, low-carb breakfast: Poached Eggs over Sauteed Vegetables (gluten-free, soy-free, low-amine, vegetarian, low-carb)
I had thought about doing omelets, but I haven't had a good poached egg in a long time. One of my dear friends is on a low-carb / slow-carb diet and came over for breakfast, so I wanted to make something that was friendly to her low-carb diet as well as my low-amine diet.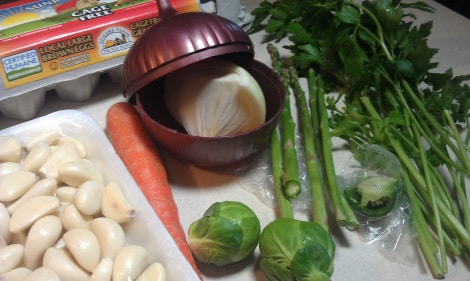 Low-amine, low-carb breakfast. Poached eggs over sauteed vegetables.
4 eggs (two per person)
4 large cloves garlic, chopped
1 medium carrot, chopped
2 Brussels sprouts, thinly sliced
5 asparagus spears, chopped
1/4 jalapeno, sliced thinly
1/4 C parsley, minced
1/4 yellow onion, diced
1 Tbsp safflower oil
1/4 tsp paprika
1/4 tsp salt
1/4 tsp black pepper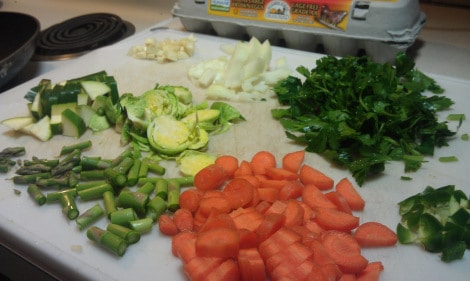 Vegetables for low-amine veggie saute
Heat one deep-walled non-stick pan full with water. Add 1 Tbsp vinegar to water (Vinegar helps keep the egg whites from coming apart everywhere. If highly sensitive to amines, omit.). Bring to almost a boil, and turn down to medium low.
 In a separate pan, saute vegetables on medium high. Start with onions and garlic, and after about one minute, add the rest of the ingredients, including spices.
Saute until done, about 4-5 minutes.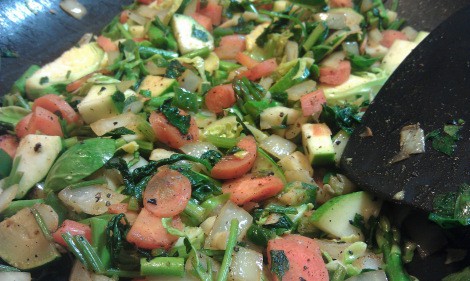 Sauteed vegetables for a poached egg low-amine, low-carb breakfast
Into two ramekins, crack two eggs each.
If water is up to temperature (should be very hot, and very sparsely bubbling), very gently drop the eggs from one ramekin into the water at the edge of the pan. You want to avoid the eggs being disturbed, so be as gentle as possible to avoid the whites coming apart everywhere.
On the opposite side of the pan, repeat with the other eggs.
Let eggs sit for about three minutes for runny yolks.
Serve sauteed low-amine vegetables onto two plates.
Using a slotted spoon, gently scoop out the poached eggs (instructions on how to poach an egg) and serve them on top of the sauteed vegetables. Salt and pepper to taste, if desired.
Serve hot.
AMINE BREAKDOWN:Very Low Amine: garlic, carrot, Brussels sprouts, asparagus, parsley, onion, salt, black pepperLow Amine: safflower oilModerate amine: eggsVery High Amine: jalapeno, paprika
Related articles
Basic Stir Fry (soy-free, gluten-free, low-amine) (aminerecipes.com)
Low Amine Chicken Strips (low-amine, gluten-free, soy-free) (aminerecipes.com)
Tomato-Free Ketchup (No Tomato, Low-Amine, Gluten-Free, Soy-Free, Vegan) (aminerecipes.com)
BBQ Sauce (low-amine, gluten-free, soy-free, tomato-free) (aminerecipes.com)
Quinoa Salad (aminerecipes.com)
Leek and Sweet Potato Frittata (low-amine, gluten-free, soy-free, dairy-free, vegetarian) (aminerecipes.com)
Low Amine Mayonnaise (aminerecipes.com)
Hot and Sour Soup (Low-Amine, Gluten-Free, and Soy-Free) (aminerecipes.com)
47.606209 -122.332071Published in:
on January 13, 2012 at 11:40 pm  Comments (11)
Tags: breakfast, Cooking, egg, food, Poached egg, recipes, vegetable


The URI to TrackBack this entry is: /2012/01/13/poached-eggs-over-veggies/trackback/
RSS feed for comments on this post.